Van den Bosch is expanding its deep sea activities with five hundred new 20ft tank containers and a cleaning station in Ivory Coast. In doing so, the logistics service provider is meeting the growing demand for deep sea transport using ISO tanks for the food industry.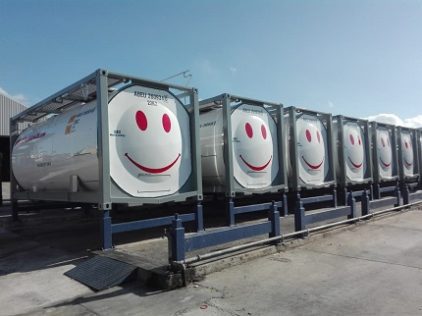 Van den Bosch is one of the biggest bulk transporters of liquid foodstuffs in the world. A major part of the activities concerns the shipment of liquid foodstuffs in ISO tank containers for the African market, such as cacao, shea butter, olive oil, sunflower oil, ethanol and wine. "With the purchase of five hundred extra containers, we are paving the way for further growth," says Bart van de Vorst, Managing Director of Van den Bosch in Dubai from where the deep sea activities are coordinated. "We expect to complete delivery of the new batch of tank containers in the second quarter of 2022."
From small packaging to bulk transport
As The Supply Changer in Bulk, Van den Bosch focuses on setting up and converting traditional transport flows into bulk transport. "In Africa, for example, a lot of work is still done in the traditional way. Products are shipped in small packaging or in flexitanks," says Van de Vorst. "This takes an excessive amount of time and labour and is not the most environment-friendly solution.
With the choice of bulk transport in ISO tank containers, we are offering an efficient, reliable and sustainable transport solution. This is making a real difference for our customers, especially given the current market situation. In addition to the aforementioned advantages, ISO tanks are also a welcome solution to the shortage of shipping containers."
New cleaning station in Ivory Coast
Following the tank cleaning station that Van den Bosch opened in Ghana in 2016, the logistics service provider is expected to open a second cleaning station in Abidjan, Ivory Coast, in the second quarter of next year. "We have invested heavily in the African continent in recent years. With the opening of this cleaning station, we are meeting the demand of our customers," says Van de Vorst.
The cleaning station was constructed in accordance with the strict European quality standards and also meets all the conditions for Kosher and Halal cleaning. "Previously, it wasn't always possible to take back a return load due to a lack of professional cleaning possibilities. The new cleaning station ensures a better balance between incoming and outgoing transport flows, and therefore fewer empty transport movements. In this way, we are working on increased sustainability and connecting Africa with the rest of the world."