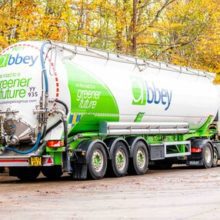 Last year, the two firms began working together through Abbey's bag-to-bulk facility where Abbey provided reformatting and bulk transport services for recycled polymers from Viridor's Skelmersdale facility.

Since then, the partnership has worked together to develop a transport and reformatting solution for Viridor's new cutting-edge Resource Recovery Centre in Avonmouth, which once fully operational will become the UK's largest multi-polymer facility.
60,000 tonnes of recycled polymers
Viridor's new Avonmouth site plays a key role in the company's decarbonisation strategy, which will see the company reach net zero by 2040. The facility expects to produce around 60,000 tonnes of recycled polymers per year using locally sourced, recyclable plastic which will create high quality recycled polymer granules that can be directly substituted for virgin material in the manufacturing of many new plastic products and packaging.

Abbey's role with the new site is to provide all transport services for the recycled polymers. This includes moving the products in bulk bags for storage and reformatting at their warehousing facility on the Wirral, and loading dedicated road tankers at Viridor's site in Avonmouth for onward delivery to customers throughout the UK and Europe.

The volume of products to be transported, stored, and reformatted is a significant increase on the previous volumes for Viridor and Abbey says it is "a fantastic endorsement for this technically challenging and niche service."
Fresh investment
To support the new contract, Abbey has invested in several new conveyor and debagging machines at its site on the Wirral to minimise manual handling during the decanting process and greatly reduce processing time.

John Abbott, operations manager, Abbey Logistics said: "Since we began working with Viridor, we have built a great working relationship and demonstrated our ability to support them and their customers.

"This latest contract signals our commitment to the recycled polymers market and supporting customers with bespoke design, build and operate contracts, constructed with pace and a deep knowledge of the products handled.

"The facilities we have on the Wirral, together with the expertise of our teams working in our bag to bulk operations, has enabled us to grow this area of the business very quickly.

"Our customers enjoy the benefit of a UK-based reformatting solution that seamlessly combines storage, reformatting and a reliable bulk transport solution as a single service, which enables them to serve their customers more effectively and at a lower cost".