For three days last month, Bulk Distributor magazine teamed up as media partner with Fachpack 2021, the trade fair for packaging, technology and processes. The event was brimming with innovation and inspiration for the packaging sector. And the pleasure of being able to meet with customers and business partners in person was palpable throughout the exhibition halls.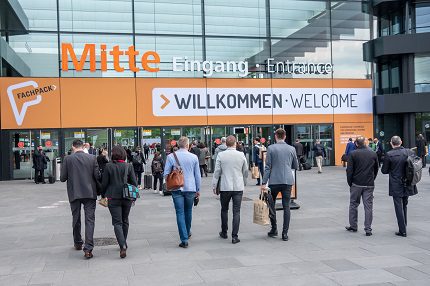 24,000 trade visitors attended this year's event
A total of 788 exhibitors from 33 countries were on hand to answer specific packaging questions from 24,000 trade visitors. Of the trade visitors, one in three had travelled to Nuremberg from outside Germany. Forty-one percent of the exhibitors and about one-third of the visitors travelled from outside Germany, mainly from Austria, Switzerland, Italy, the Netherlands, Turkey, the Czech Republic, Poland, France and Belgium.
The supporting programme also proved highly popular. In the region of 9,500 audience members followed the 101 product presentations in the PACKBOX, TECHBOX and INNOVATIONBOX forums. And anyone who missed a presentation at the trade fair can still view it on the myFACHPACK digital tool until the end of the year.
With products on display and an international focus Fachpack covered a comprehensive range from the entire packaging process chain, including packaging materials and machines to printing and processing, logistics systems and services.
Phillip Blass, Director FACHPACK, NürnbergMesse said: "What visitors to Fachpack particularly appreciate is the productive conversations with exhibitors, which leads to new ideas for solutions to their packaging problems."
High attendance of senior decision-makers
The visitor surveys reveal that 90 percent of the trade visitors were recorded as 'involved in the purchasing and procurement decisions in their companies. About two-thirds of visitors hold senior positions, and more than one in five are from management. The visitors came mainly from the food and beverage, pharmaceutical and medical, cosmetics, chemical, electronics and automotive industries.
The new key theme for 2022, transition in packaging, is focussed on the powerful trends currently impacting on the packaging industry. Sustainability is demanded not only by law but also by consumers and that has resulted in far-reaching changes to the industry.
Covid-19 has brought a focus to the aspect of hygiene in product protection. In addition, areas such as online shopping and home deliveries will continue to grow. What purchasing behaviours will consumers exhibit in the future? These themes are not only a task for the packaging industry, they also offer a major opportunity to make changes.
The next Fachpack will take place in the Exhibition Centre Nuremberg from 27 to 29 September 2022.  https://www.fachpack.de/en