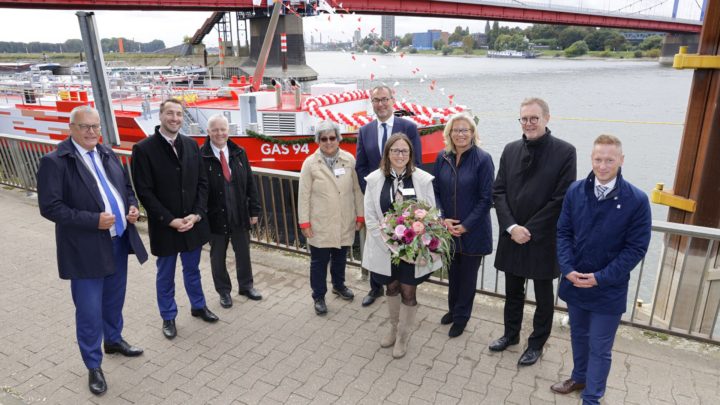 The diesel-electric drive system onboard the vessel will help the two long-standing partners to achieve their sustainability goals. The river Rhine and inland waterway shipping are crucially important for supplying the BASF Group's site at Ludwigshafen. Most of the inland waterway shipments have to make their way through the critical water levels at Kaub in the central Rhine valley.
Achieving sustainability goals
The 'Gas 94' has been designed in such a way that it can still transport 200 t of liquefied gases, even if the water level at Kaub is just 30cm. This is due to the optimised uplift properties on the vessel's hull, which have been achieved using a complex arrangement of components such as cargo containers and the drive system technology.

The search for new solutions was driven by the effects of the ongoing low water levels on BASF's logistical processes in 2018 as well as recurring low water levels on the river Rhine. New kinds of ship designs should therefore make a significant contribution to safeguarding the competitiveness of the group's business site at Ludwigshafen.
The completion went according to plan so that just 22 months elapsed from the design and engineering work until the vessel was put into service. The 'Gas 94' is the fifth vessel that HGK Shipping has commissioned during the Covid-19 pandemic.
The new gas tanker represents a further milestone in optimising the design of vessels and the drive concept for HGK Shipping too.
The concept and the engineering for this forward-looking design was developed by the team at HGK Shipping's Design Center in close cooperation with the transport management experts at HGK Gas Shipping GmbH in Hamburg.
"The combination of an innovative drive system with a ship design, which is optimised for extremely low water levels, provides an impression of how we think that inland waterway shipping will develop in future," says Steffen Bauer, CEO of HGK Shipping.
"However, HGK's top priority is to meet the requirements of industry," says Anke Bestmann, managing director of HGK Gas Shipping GmbH.