IVECO has delivered 15 IVECO S-WAYs to Chemical Express Srl, which specialises in bulk liquid chemicals and liquid industrial waste transport across Europe.
The delivery, in Naples, was attended by Vincenzo Romano, director of Chemical Express Srl, Giuseppe Avallone, Chemical Express CEO, Michele Valiante, CEO of Socom Nuova, Carmine Ceglia, specialist heavy trucks Socom Nuova, Alessandro Oitana, IVECO Italy market medium and heavy business line manager, and Fabrizio Scirè, IVECO district manager.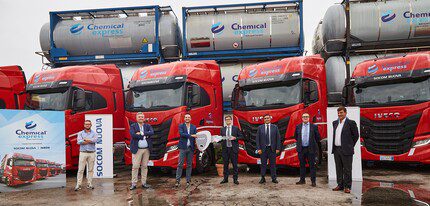 The 15 IVECO S-WAYs, model AS440S48T / P, will be used for transportation in Europe of a wide range of chemical and liquid products, including flammable, corrosive and other products classified as dangerous.
The road tractors are equipped with 480 HP Cursor 11 engine and 3650 wheelbase, and also with Hi-Tronix 12-speed automated gearbox, active space cab, ideal for long-haul journeys, and ADR preparation for the safe transportation of dangerous goods.
Alessandro Oitana, IVECO Italy market medium and heavy business line manager, said: "Our IVECO S-WAYs are the ideal solution for efficient and safe transport, as in the case of chemical products and industrial wastes transport, both for domestic and international. We are proud to provide Chemical Express Srl with high-performance vehicles."
Vincenzo Romano, director of Chemical Express Srl, commented: "Our company pays particular attention to the search of high innovative transport solutions; with this in mind, we evaluated the new IVECO S-WAY and were extremely interesting thanks to the greater connectivity."