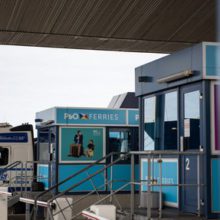 They believe the new service, launched in response to rising market demand, offers seamless communication between customers, booking offices and customs clearance departments.

Led by industry experts and operated by trained freight booking office personnel, the new service is equipped to assist customers with empty declaration requirements, from October, providing tailored support throughout the last quarter of 2021.

As international trade continues to emerge from the Covid-19 pandemic, the service will develop the provision of smart logistics solutions, ensuring customers are prepared for evolving requirements and future regulatory changes.
A range of digital solutions ahead of Brexit changes
With the UK Government Brexit changes scheduled to be implemented from 1 January 2022, P&O Ferries is also developing a range of digital solutions to help customers with their requirements, which will be rolled out in phases in the months ahead.

The customs clearance service provides import and export clearance coverage to any company, on any shipping route, seven days a week. All port import and export operations, including DeepSea, RORO and LOLO feeder will have access to declaration support, safety and security data input assistance, and UK port platforms. Payment of duties and completion of transit forms will also be available, increasing efficiency, transparency, and control throughout supply chains.
Eliminating unnecessary complications
By building on its extensive experience in the provision of specialist customs services, P&O Ferries will enable customers to eliminate unnecessary complications, delays and costs by facilitating the correct and compliant declaration of cargo.

P&O Ferries Freight Services', managing director, Thorsten Runge said: "Customers already face an array of complex, time-critical challenges. As they prepare for forthcoming regulatory changes, our customs clearance service will enable the continued smooth sailing of goods and people across borders, providing fast, reliable and flexible links to international supply chains and markets.

"The investments we are making in new equipment, new sites and new capabilities, all have one purpose –to solve supply chain challenges. As those challenges become ever more complex, we are using deep sector knowledge to help customers drive efficiency. With the support of our parent company, DP World, we are committed to improving and expanding the nation's trading infrastructure."