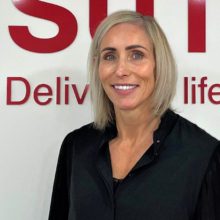 Chrisi brings a wealth of experience including the efficient implementation of major new contracts, systems implementations, process improvement and procurement.

As an existing board member who has been with Suttons for over six years, Chrisi has been involved in the creation and execution of the overarching strategy as well as both the long and short term aims of the business.
Building on the success that fleet director, Steve Hassall, has achieved in strengthening the structure of the operations team with strategic appointments and streamlined processes, Chrisi will focus on the future scalability of the business to prepare it for further growth.
Michael Cundy, managing director, said: "Chrisi's board level experience and excellent transferrable skills made her a strong fit for the job. I am looking forward to seeing her contribution to this critical area of the business."
Chrisi Lloyd-Roberts said: "Using my operational leadership experience from manufacturing, I am looking forward to working with the tankers operational teams. Over the coming months I'll be focusing on the critical themes of safety, customer service and efficiency, whilst retaining stability through this challenging period of the national driver shortage".