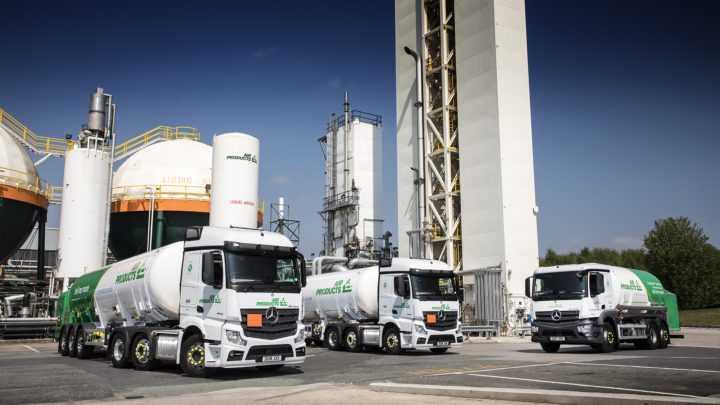 To secure earned recognition, which is a voluntary scheme, Air Products has to continuously monitor its compliance with a set of Key Performance Indicators using a DVSA-validated IT system. 
As a DVSA-accredited exemplar fleet operator, Air Products' vehicles and drivers are now less likely to be stopped at the roadside for inspections – an important 'on the road' benefit which enhances the company's ability to maintain its business critical on-time deliveries to customers.
Complementing our driver compliance through Logistics UK vision tool, key to Air Products' high rates of compliance was the introduction of TruckFile in late 2019, an electronic fleet and workshop management system. TruckFile provides Air Products' vehicle managers with real time fleet maintenance information, a centralised planning system and electronic document storage, all of which gave the DVSA the transparent reporting needed for earned recognition status.
Air Products has also digitised its workflow using the Truckfile app-based system which allows drivers to use their phones, rather than paper, to conduct their daily vehicle checks and in turn, report any defects in real-time. The system then alerts the maintenance team where the garage technicians use iPads to record any maintenance that is required and provides full transparency as vehicles move through the whole process.
Vehicle and driver safety are a priority
Mark Pawsey, distribution manager for UK and Ireland at Air Products, commented: "Our 450-strong fleet of HGVs transport liquified and bottled gas around the country so we're not just looking after our vehicles, but also the specialist equipment that stores and delivers our products at extremely high pressures and low temperatures. As a result, it's vital that our trucks are well maintained and our safety record remains excellent.
"We're delighted to have secured earned recognition status as it clearly demonstrates to our customers, that vehicle and driver safety are our priority. Through a combination of driver training, best-in-class vehicle maintenance and regular internal inspections, we have achieved this industry-leading standard.
"We use our own specialist workshop teams to look after our gas and liquid vessels and delivery systems, which adds up to a lot of planning, communication across the team and central recording activities to ensure full legal compliance. Thanks to TruckFile, we've been able to reduce the amount of time spent on administration, while the level of control and visibility we have over the whole workshop and fleet operation has increased."
A table and scorecard provides real-time visual performance for all stakeholders on a monthly basis, which is shared with DVSA authority by exception.