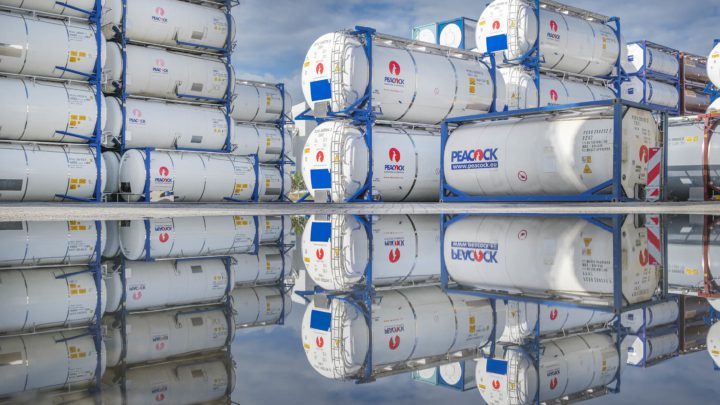 In February 2020, Peacock was acquired by private equity investor Arcus Infrastructure Partners, which then moved rapidly to buy the assets of fellow tank lessor Gem Containers, more than doubling Peacock's total fleet to some 16,500 tank containers.
While this instantly made Peacock one of the six largest tank lessors globally, it brought with it the challenge of integrating not only Gem's 9,000 tanks but also the associated operating and financial leases into Peacock's system.
Happily, both companies were existing clients of MRI Intermodal Software using Rental4000 for tank leasing, and MRI was on hand to help merge the respective operations into one.
Peacock's managing director Jesse Vermeijden explained that the key issue in such a project is always integration, including data integration.
The fact that Rental4000 was already used by both companies gave confidence that a relatively rapid marriage could be achieved.
"Quite early on we started talking with MRI about how to integrate the two platforms," said Vermeijden. "The main challenge was to make sure that all the data came across and allowed us to run billing within four to five weeks after the project start date; while – critically – ensuring there were no issues for lessees, the end customers."
Such a strict timeline for execution needed commitment from both sides at a very high level. Thankfully, MRI's consultants are among the best in their field and so the tight deadline was not unduly worrying.
Vermeijden said the initial approach to MRI was made at the start of April 2021 around the time of Peacock's acquisition by Arcus. By mid-April it was known the Gem acquisition would happen, and by end-April the project was given the green light.
Teamwork on data migration
However, while the commonality of both leasing companies' systems carried advantages, significant work was still needed. "We had to do quite a bit of data mapping as the two companies, while running the same MRI system, used different codes for different clients, functions, locations, etc. This all had to be synchronised and involved teams from MRI, Peacock and Gem working together to decide which codes should migrate into the integrated system," he explained.
In addition, continuous error testing had to be carried out to make sure the resulting system was as robust as possible.
"However, we had good communication and very productive, proactive support from MRI that enabled us to get up and running in a short space of time," Vermeijden went on.
Despite these pressures the integration was successfully completed within the five-week target, for which Vermeijden is quick to thank MRI for its "great project management."
"We had some tweaks in June after the first billing cycle, but these were minor details; other than that, it's been really smooth," he said.
Focus on document flow
The Rental4000 suite supports the entire lease fleet operations, contract and asset management, maintenance & repair, billing, cost management and planning.
In fact, now the integration has been successfully achieved, Jesse sees numerous opportunities to leverage the platform and provide further benefits to customers.
"Document flow can be quite time consuming and costly," he says, "and our market (ie, tank containers) is still some way behind in terms of automation and digitalisation, so this has to become a focus for development."
A particularly important function is the use of an MRI partner's product, Intermodal Portal, which acts as a bridge between customers and the lessor's internal database.
Just like a bridge, Intermodal Portal allows for two-way communication, so not only can it be used to present information to customers and suppliers, but it can also receive data and post back to Rental 4000.
As an 'Open and Connected' architecture, the aim is to negate the need to key in data; instead, just to receive data from third parties via the portal, or indeed other protocols, such as EDI/API.
Migration to the cloud
Moving to cloud processing is also on Peacock's radar. Vermeijden is happy that for now the 'traditional' server system works really well with almost zero downtime. But he points out that the life cycles of servers "are not super-long today" and so migration to the cloud is probably not that far away.
A big advantage of digitalising everyday processes is that it allows Peacock to free-up resources to focus on business development. "We have an ambitious shareholder and growth expectation is now part of our DNA," Vermeijden went on. "This will be via organic and inorganic routes; for example, this year we have acquired 3,500 new tanks in addition to those that came from Gem, and we have similar ambitions for the years ahead."
He expects to see more consolidation in the tank leasing market, although "at least six or seven significant players are likely to remain as customers will still want choice".
"We are here as a long-term investor and player, and that is why we are investing now in our software and digital platform as this will be key to our growth ambitions," he concluded.