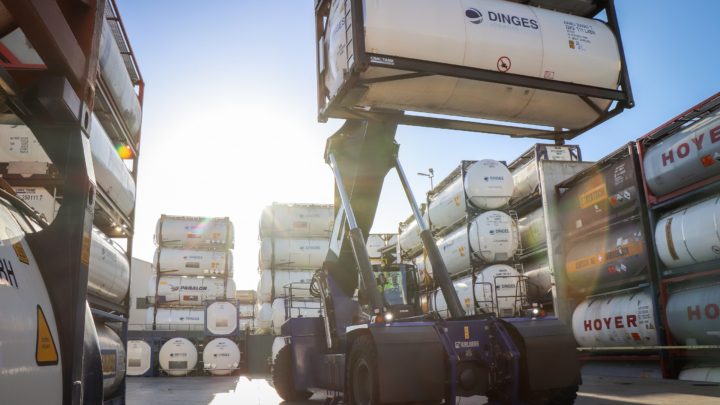 At the site, 'Super Gloria' is now in operation; a reachstacker supplied by handling equipment manufacturer Kalmar. With a tare weight of approximately 105 tons, the model DRG450-82S5XS is the heaviest machine of the fleet and already the company's second Kalmar reachstacker.
Kalmar's Super Gloria has a Volvo Stage EU5 engine with ZF transmission. The lifting arm has a length of 13.2m. With a wheelbase of 8.25m, the machine is one of the largest reachstackers available on the market. Through features such as the horizontally movable driver's cab, special noise insulation and camera systems, the machine not only meets the latest state-of-the-art technology, but also complies with the highest safety standards.
By using Super Gloria, containers can be placed both lengthwise and crosswise with 1,000mm negative lift into the existing hazardous goods tubs. Furthermore, the machine enables a potential 5-high stacking of the tank containers and even in the fourth container row it still has a load capacity of 32 tons. Super Gloria therefore represents an optimal addition to the Dinges Logistics fleet.
Although it has only been in operation for a few weeks now, it is already having a major effect, as the available space volume can now be used in the best possible way thanks to the special features of the new machine, such as its enormous load capacity and the negative lift described above.
Optimising space
"Previously, the challenge was that we didn't have a reachstacker with negative lift, so we couldn't fully use the space available in our hazardous goods storage when positioning tank containers," explained Ingo Dinges, owner and managing director of Dinges Logistics. "Weighing up the cost-benefit aspects showed us that Super Gloria had clear advantages for us, and that is why we ultimately opted for the machine."
Dinges Logistics is a specialised service provider for transport and logistics solutions in the area of chemical transport and petrochemicals, for both hazardous and non-hazardous transport, as well as GMP+ certified and waste transport management.
The company established a philosophy of being a 'one stop solution' for the industry by offering value-added services. This means that it provides not only transport services, but also tank cleaning and workshop services as well as an own container terminal and hazardous goods storage. At the Grünstadt the terminal, there are currently a total of 600 slots available for tank containers, 108 of which are for loaded containers with ADR classes 3, 6, 8, and 9. In addition, the company also offers cooling and heating services at the container terminal to make sure that every product is stored according to its individual needs.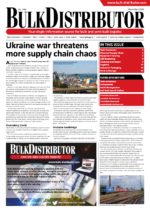 This article originally appeared in the March/April 2022 issue of Bulk Distributor.
view magazine