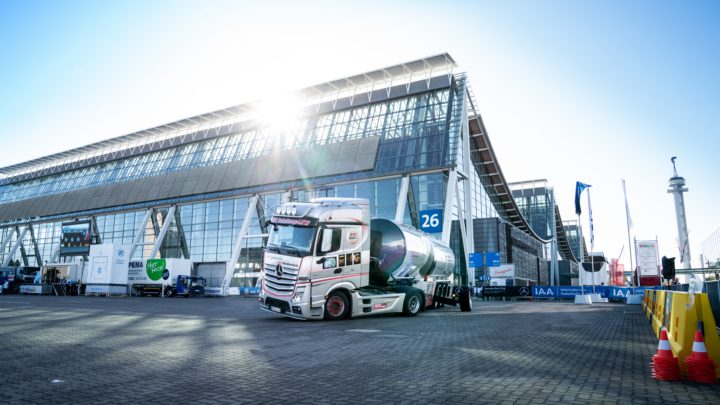 Here, exhibitors will present the latest developments and most important trends in the world of transport and logistics, live in front of an expert audience and integrated into a professionally moderated stage program including a screen broadcast.
At the successful premiere in 2018, driver assistance systems and a fully autonomous driving semitrailer truck were presented or driving lessons for young professional drivers were offered. This year, the IAA innovation stage offers the chance to experience the technological transformation of mobility live.  
The thematic focus is on advanced solutions for autonomous driving, vehicle and driver safety, networking and automation. To intensify the experience for visitors, for the first time this year exhibitors can make so-called 'drive throughs' part of their show contribution.
Advanced platform concepts 
Exhibitors offering their vehicles at the IAA test drive can be integrated directly into the innovation stage program if required. This links the two IAA Experience formats with each other. This networking strengthens the experience factor of the IAA Experience for visitors and underpins the claim of the new IAA TRANSPORTATION concept as one of the world's most advanced platform concepts. The shows will take place daily between September 20 and 25. 
VDA managing director, Jürgen Mindel, said: "The IAA innovation stage is the place where innovations come to life. The unique combination of professional product presentation and effective entertainment creates unforgettable experiences for visitors to the IAA and is undoubtedly one of the highlights of the IAA TRANSPORTATION.
"From sustainability to connected driving to urban logistics – the variety of topics covered by the presentations is almost unlimited, because we expressly want to represent the industry in all its breadth and all its dynamism. This approach makes the innovation stage attractive for emerging startups as well as established manufacturers and suppliers."