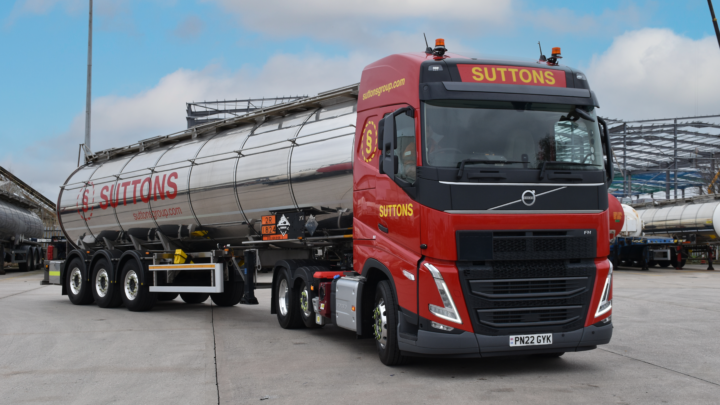 In response to driver feedback, the leading logistics provider has introduced a larger sized tractor unit to the UK fleet, which is better suited to long distance and overnight journeys.
The first consignment of 15 new Volvo tractor units have been delivered into service, serving customers in the fuels, general chemicals, and waste sectors in the UK. 110 more of the larger tractor units will be put into service over the course of 2022.
The new Volvo FH Globetrotter features a number of safety and comfort upgrades such as LED headlamps, adaptive cruise control, a large fridge/freezer, an integrated microwave, comfortable bed, and upgraded seat.
£2m investment in-cab technology
The purchase of these tractor units supports the recent £2M investment in in-cab technology, which saw the deployment of Microlise telematics and technology across its entire UK fleet. This has enabled Suttons to manage its fleet more effectively through vehicle tracking and utilisation reporting, as well as managing driver performance and improving driver communication.
Driver-wellbeing is of the upmost importance to Suttons Tankers and these new cabs ensure that drivers on long distance and overnight journeys are comfortable and well rested, safeguarding Suttons drivers and other road users.
Michael Cundy, Suttons Tankers managing director said: "I am delighted to see the first of the new Volvo FH Globetrotters arrive at Suttons sites and on the roads. These new cabs are the result of an open dialogue with our drivers to better understand their needs and to create a more comfortable working environment"
Steve Kennedy, Suttons Tankers driver operating out of Widnes said: "The new FH cabs make overnight and tramping jobs much more pleasant. As someone who can spend up to five nights on the road, the increased space, improved build quality and features such as fridge and microwave really make my days on the roads and nights parked up easier, so I can focus on the job."