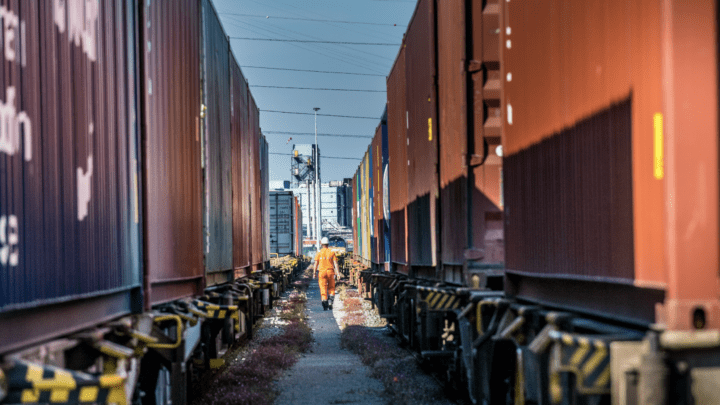 The global end-to-end logistics and smart trade enabler has committed to investing in intermodal transport across the region to offer improved services to customers, while also looking to reduce the number of carbon emitting trucks on Europe's increasingly congested roads.
DP World operates 20 terminals in twelve countries across the breadth of Europe. The forward-looking firm and its customers have benefitted significantly from its recent investments in rail infrastructures at its operations in Turkey and the UK, while its upgraded services in Rotterdam and Antwerp continue to be fundamental to the huge business levels moving in and out of the important Hinterland region.
Key to reducing carbon emissions
While the need for resilient and efficient services are driving much of the firm's investment, it also believes rail and barge are key to reducing carbon emissions within the sector. A recent studyi showed that barges can move a ton of cargo 647 miles with a single gallon of fuel. Meanwhile, trains can move the same cargo 477 miles and trucks only manage 145 miles per gallon.
DP World Antwerp, one of the greenest multipurpose terminals in the world, boasts unrivalled railhead services within the terminal, handling up to 40 trains each week, with flexible, direct connections to every major European industrial region. In fact, the rail hub at Antwerp Gateway can handle six trains simultaneously, benefiting from six rail tracks of 750m in length – and therefore capable of handling any type of block train.
The port is also connected to the 1,500km-long Belgian waterway network and to the pan-European river and canal network, resulting in a substantial 35% of all cargo to/from Antwerp Gateway being transported by barge.
Handling freight trains spanning 775m
At nearby Rotterdam World Gateway, 65% of the Hinterland containers continue their journey to their destination via inland shipping and trains, instead of trucks, helping minimise the impact on the environment.
And at DP World UK, London Gateway and Southampton are the only ports in the entire country that can handle the country's longest freight trains – spanning 775m with the approximate equivalent capacity of over 76 trucks. At Southampton, 30% of cargo is transported by rail – the highest rate in the UK – with London Gateway aiming for similar levels. In fact, our on-site rail connections at London Gateway and Southampton take 300,000 trucks off UK roads each year, reducing congestion and carbon emissions.
Further east, DP World Constanta – on the south coast of Romania – is the Black Sea's premier port, and the only one in the country with rail and barge onsite. It features a barge connection to Braila – a river island near the Ukrainian and Moldovan border – and it features a three-line rail terminal that provides a full rail coordination service. Each line is 600m long, capable of handling three complete 30 wagon trains at one time, operating two rail-mounted gantries with an adjacent stacking yard of 5,000 sqm.
Avoiding bottlenecks
The terminal transports approximately 30% of cargo by rail to the east European hinterlands, feeding its growing productive base and its burgeoning consumer markets while offering logistics partners intermodal connections as a means to avoid bottlenecks and increased reliability and reassurance as well as onward rail or truck services via a first-class feeder connection.
The firm has recently invested heavily in rail services at DP World Yarimca, Turkey, which offer connections to the Middle East and Asia. The international railway line, which has onsite access to DP World Yarimca, offers direct access to many Eastern European countries and China through the Middle Corridor connection as well as the Kars-Tbilisi-Baku connection.
Rashid Abdulla, CEO, DP World – Europe, CEO, commented: "Demand for express delivery has soared in recent years and we believe that is only going to continue due to consumer expectations around time, efficiency and sustainability as companies and end users look to understand more about the carbon footprint of their goods.
"Building efficient networks through multimodal capabilities relies on lean port operations, where technology is utilised to provide transparency and forecasting for both merchant and operator, and expertise are imparted on product cycles and consumer demand."
Significant rail capacity
DP World's Inland Network in Europe is made up of 12 terminals across Germany, France, Switzerland and Benelux. The firm has created significant rail capacity at its Inland hub in Stuttgart in Germany as well as Germersheim.
It provides resilient trimodal-modal transport solutions into various European deep seaports, combining inland transport and terminal services, while offering various rail products between the deep-sea ports and our network of inland terminals. The inland network connects DP World's various terminals and partner firms such as P&O Ferrymasters and Unifeeder to offer end-to-end services across mainland Europe.
One significant example where DP World is looking to maximise barge use is on the River Danube, which passes through more countries than any other river in the world, thereby making it a hugely significant trading route.
Barges on the Danube can transport goods all the way from south-west Germany, through several mainland countries, including Serbia, as served by the DP World Novi Sad terminal, all the way through to DP World Constanta, where it meets the Black Sea Basin connecting to Eastern Europe and the Middle East.
"It is vital to modernise"
Rashid added: "We are a very forward-thinking business which believes in technology and innovation. We believe hyperloop technology will revolutionise the sector and we have partnered with Virgin Hyperloop One to create DP World Cargospeed, which will enable fast, sustainable and efficient delivery of palletised cargo around the world.
"Europe will benefit significantly from that kind of technology in future, but for now we believe it is vital to modernise and maximise the intermodal transport available to us."