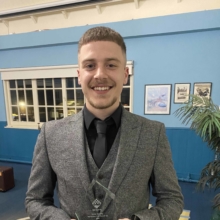 Throughout the project, Robbie overcame a number of barriers to success, most notably being the reduction of integrated software costs from a 4-figure sum to zero by analysing different options and finding a viable workaround. On completion, Robbie's project was a huge success and has been widely adopted by Spiroflow's sales staff.
For the apprentice prize award, the SHAPA judging panel based their assessment on an apprentice's development through a project or challenge overcome, together with a short video presentation.
Customer satisfaction
The aim of Robbie's project was to set up a method of measuring customer satisfaction, by creating a form and trialing ways to acquire data from customers that could be fed into one of Spiroflow's CRM systems. This is turn will allow service/sales teams to have up-to-date scores on performance and be able to identify KPIs (key performance indicators). By introducing reviews from customers, the intention is to help boost customer retention and repeat customers through tailored lead nurturing post sales.
Commenting on his project, Robbie said: "As an apprentice it is great to manage a project that becomes a tool used daily by all relevant stakeholders, it is also good to give back to the organisation and prove my worth to them as a thank you for giving me the opportunity to begin my career with them. I feel like this project highlighted what I can bring to a team, and I hope it is a sign of things to come in the future."
Spiroflow's managing director, James Podevyn, added: "I'm delighted that Robbie has won one of the apprentice prize awards, which is richly deserved. His project proves that he has the tenacity and commercial nous to tackle complex and demanding assignments in the future."