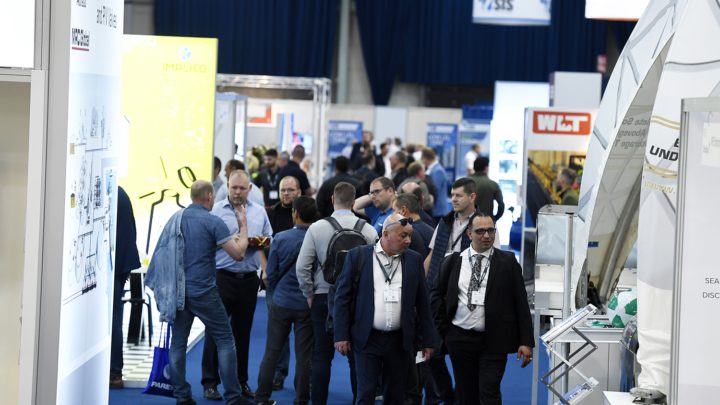 Thousands of industry professionals, including representatives from the likes of Shell and Vopak, as well as key terminals and storage players from over 100 countries worldwide, gathered at the event to discuss the industry's hottest trends browse the future-shaping exhibition floor.
Lourda Derry, COO of Easyfairs, hosts of StocExpo, said: "It's wonderful to be back in-person. The sector is going through an important transition and it's crucial that we are able to share ideas and tackle these issues together. I'm personally happy to have seen everyone and StocExpo has, once again, enabled discussion, networking and new business in the global tank storage industry."
Direct insights from energy partners 
Delegate at the event, Sachin Mohanani, terminal operations analyst at Shell, said: "This was my first time attending StocExpo in person, I attended virtually last year. You get a lot more out of it in person, particularly when it comes to networking. There's been lots of topical information about energy transition and security and it's been really valuable to be here and get insights from our energy partners directly."
Exhibitor, Peter Dikkerboom from HMT, said: We've had lots of people we know visit us on our stand, it's been like two months of new business acquisition in a single afternoon! We spoke to a dozen people we normally have to go and visit individually, and they were here visiting us. There are both decision makers here and operations people – people who actually use the tech – so it's been really valuable."
As well as stands, the exhibition floor saw full robotic tech demonstrations from the likes of SPRINT Robotics, PPG, Re-Gen Robotics and ScoutDI, to name just a few.
Catherine Reijans, SPRINT Robotics, said, "The event's been energising. It's great to do business again with people, connect and move forward together" 
More focused
Peter Postma, Siemens Energy, commented, "From what I've experienced here, it's more intense and more focused. Everyone we've seen has an agenda; we're positively surprised by the amount of homework the delegates have done. We're here with our new, state-of-the-art robotic inspection product, and our well-established tank management system which has a 25-year track record. This is the kind of tech that needs to be demonstrated face to face!"
And terminal operators were able to learn about digitising their operations from the likes of Smartflow and Maintenance Solutions BV, again to name just a few.
Miranda Moonen, Director, Maintenance Solutions BV, said, "It's been very busy, it's been crowded all day. We had a lot of terminal maintenance professionals visit because they want a dashboard that is smart and easy to read, even for non-technical people, so they're exactly the people we wanted to speak to as we launched our new IAM-Datadriven Maintenance KPI Dashboard here at the show. StocExpo has exceeded our expectations, we've been the busiest stand!"
Delegate, Ronan Le Diraison, Rubis Energie, says, "It's been a great event, very interesting conference and exhibition and good stuff on display."