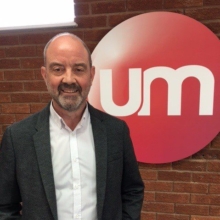 Vic steps up to the role at Liverpool-headquartered UM Terminals, which he will combine with his existing responsibilities as the company's commercial director.
Vic replaces Bryan Davies in the MD role. Bryan is moving to a new position with Associated British Ports.
Vic said: "I am delighted to have been asked to combine the roles of MD and commercial director at UM Terminals.
"I will be looking to continue to execute the strategic growth plan that we launched in September 2020 maximising our UK capability, harnessing the assets of the wider UM Group, and looking for potential acquisition targets."
Among the immediate key requirements is to identify and onboard customers for a small number of opportunities at its Liverpool sites at Gladstone Dock and Regent Road.
Building on customer-centric approach
There are three tanks available at Gladstone Dock, each 13,200m3, while Regent Road has two tanks available, each 10,750m3.
UM Terminals operates out of 8 terminals, strategically located across the UK, handling over 40 different products.
It currently has a capacity of over 300,000 cubic metres of bulk liquid storage, but the plan is to grow this to over 400,000 cubic metres.
Product solutions include vegetable oils, industrial, food and feed, chemical, fertiliser, fuels, biofuels and base oils.
Vic said: "I am excited to be taking on this additional leadership role at UM Terminals, further building our reputation for having a flexible, can-do, customer-centric approach to meeting the supply chain requirements of our customers."