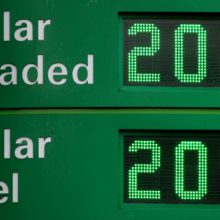 Kate Jennings, Logistics UK's policy director, explains that the use of fuel is critical in the delivery of goods across the UK's economy. The knock-on effect of sustained prices will be increased costs for consumers and businesses: "77% of all UK supply chain journeys are by road while others always have a road element to provide first- or last-mile deliveries.
"The UK's logistics operators are already paying duty at a rate which is 63.5% higher than the EU average, and with labour costs also rising, the current exceptional cost of fuel is putting unprecedented pressure on the businesses which the country relies upon to keep it supplied with the goods it requires. And while a 5p per litre cut to duty was welcomed earlier in the year, this has been already absorbed in the ongoing increased running costs for business. A further 6p per litre duty reduction, implemented immediately, would be good for the cost of living, good for business and economic growth, and good for supply chains." 
A dynamic mechanism 
One potential solution to the issue of rising prices could be introducing a dynamic system, similar to that used in Portugal, where the rate of duty is reduced weekly if there is an increase in VAT revenue on fuel sales.
Ms Jennings continues: "An increase in the material cost of fuel will still enable the Treasury to achieve tax targets through VAT payments. However, by introducing a dynamic, price-related taxation mechanism, the government can ensure that fuel duty doesn't add to the inflationary pressures consumers and businesses face."  
Logistics UK estimates that a cut in fuel duty of 6p per litre would result in an average saving of £2,424 per year per 44-tonne truck.