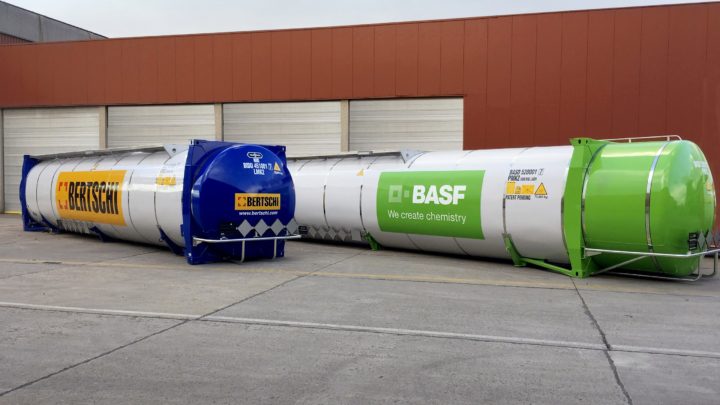 But a few years back, extra-large tanks containers started to appear. These behemoths were first developed in 2015 by tank manufacturer Van Hool and German chemicals giant BASF. They were first used in 2017 at BASF's site in Ludwigshafen, Germany, to manage in-plant logistics.
Specifically, the giant tanks ferry raw materials between different parts of the chemical plant on automated guided vehicles replacing rail tank wagons that used to do the same job more slowly and more expensively.
The tanks range in size from 45ft to 52ft and can have a capacity of as much as 73,000 litres, compared with 21,000 to 26,000 litres in conventional tanks. Such a step change in size, capacity and weight necessitated a review of current regulations covering the ISO tank industry.
Thus, in March this year a UN working party on the transport of dangerous goods took its first decisions regarding the regulation of extra-large tank containers.
The decisions – on definition, shell thickness and pressure resistant closures –offer greater regulatory clarity for manufacturers and users.
The regulations for transport of dangerous goods by road (ADR) and rail (RID) were developed assuming a maximum capacity of around 36,000 litres, leading to questions over the need for additional legal provisions for them.
Definition of extra-large tanks
At the UN Economic Commission for Europe (Unece)'s Working Party on the Transport of Dangerous Goods (WP.15) in March, it was agreed the extra-large tanks would be defined as having a volume of more than 40,000 litres.
This definition was proposed by Cefic, which argued that it would offer clarity and legal certainty for investors, leasing companies, manufacturers and users to invest in or use extra-large tank containers.
A minimum thickness for the shell was also agreed at: 3mm for a conventional and 4.5mm for an extra-large tank. As a transition measure, extra-large tank containers constructed before 1 July 2023 that do not conform with this can still be used.
A requirement for pressure resistant closures was also agreed. This provision – requiring pressure resistance of manhole closures to be designed at a test pressure of 4 bar – is already in place for tank wagons to avoid leaks from surge movements of liquid. Extra-large tank containers that are divided into compartments of no more than 7,500 litres by partitions or surge plates are exempt.
Extra-large tanks could find a wider market as opportunities arise for shifting freight from road to rail. Although, Jochen Conrad, head of the dangerous goods department at the Intergovernmental Organisation for International Carriage by Rail (OTIF), said that there are other safety issues that still need to be considered for the containers.
These include tank head shields and provisions to prevent overriding of crash buffers.
Cefic also pointed out that the current RID regulation does not specify a minimum filling degree for rail tank cars, while road tank containers (both standard and extra-large) do require a minimum filling degree. Cefic therefore proposes to remove the minimum filling degree in the RID for all small and extra-large tank containers that are transported only by rail.
The provisions mainly apply to the RID due to their size and mass, but also to the ADR because the containers can be transported by road when empty.
The regulations come into force on 1 January 2023.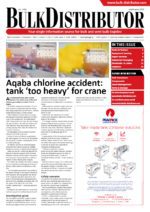 This article originally appeared in the July/August 2022 issue of Bulk Distributor.
view magazine