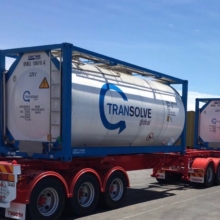 Bulk Distributor asked the company about the services it provides in bulk liquids logistics, while Rachael Budd also explores the current state of the freight forwarding industry and whether the global supply chain has finally reached a tipping-point in this post-pandemic world.
Could you please provide a brief overview of transolve global's total activities?
A market leader in the areas of bulk liquids, wine, edible oils, FMCG, food & beverages, industrials, lubricant oils and mining, Transolve is passionate about exceeding our customers' expectations and continually finding new, efficient, and innovative ways to optimise performance across logistic networks.
With offices across USA, New Zealand and Australia, and a network and reach that span all continents, Transolve can set up and manage the global logistics functions for customers across an array of industries, working as their external global logistics manager.
We provide door-to-door import and export services including ocean freight, air freight, road transport and customs clearance services. We also provide a unique and innovative commercial documentation management service, taking care of all documentation from commercial invoices to certificates of origin preparation through to standard export declarations and PRAs for the receival advices into port terminals.
In relation to bulk liquid logistics, what services does the group offer to customers?
At Transolve Global we specialise in the transport of bulk liquids via sea, road and rail, moving large import and export volumes on a weekly basis across global markets.
The bulk liquids we transport are of a vast and varied nature, including but not limited to; edible oils, wines, lubricants, chemicals, fuel oils, oilfield chemicals, food grade ethanol, and more.
Our comprehensive knowledge of the bulk liquids industry, alongside our extensive experience across numerous industries, means we can develop a customised freight forwarding solution that is agile, efficient and adds value, without sacrificing any product integrity along the way.
With regards to bulk liquids, we provide the following:
Flexitanks. Our flexitanks are available in a range of sizes, from 18,000 to 24,000 litres and we assist clients in choosing the correct size of flexitank required to ensure they receive the maximum payload per container.
ISO Tanks. Our ISO tanks undergo our strict sanitation procedures to prevent cross-contamination from previous products. With the ability to be reused many times and varying options from 18,000 to 26,000 litres, ISO tanks are an efficient transport solution for many products and brands.
Intermediate bulk containers (IBCs). With the ability to be reused multiple times, lower handling and storage space costs, and sizes that hold 200 to 1,250 litres, IBCs are an efficient option for a range of industries and products.
How is the company performing as the pandemic recedes?
Transolve is performing well as the pandemic recedes. The early indicators show that conditions across the global supply chain might be easing, with more space availability in the spot market, and we are feeling this at Transolve.
We have noticed that as well as locking in long-term shipping contracts, operating in the spot market is also appearing to reap benefits for our clients. This enables us to acquire the best deals for our customers as we can move more freely to leverage situations when it comes to space and price.
Can you provide some detail of what bulk liquids you are shipping on behalf of customers? Eg, is bulk wine in flexis an important business segment? To which markets, import or export?
As one of Australia's most experienced specialty wine exporters, we have worked with numerous top 50 global wine brands, moving Aussie wine to key overseas markets including the UK, Germany, China and the US.
Trusted by large international conglomerates, we have the reach and relationships required to establish and manage international supply chains and that move mass volumes out of and into origin and destination locations within the retail sector and beyond.
Other bulk liquids we have extensive experience with include edible oils. We export and import vegetable, olive and canola oils, palm oils, sunflower oils, coconut oils and other derivatives. For example, we ship canola oil throughout Asia, and into the USA and New Zealand, conversely we import palm oil into Australia.
Our expertise has also seen us transport automotive oils, industrial oils, greases, recycled base oils and other lubricants across global markets, with a predominant focus on Asia, which is where the majority of demand for these products emanates. From temperature controlled and hazardous ISO tanks through to flexitanks, we have the right supply solution for clients.
From where do you source your flexitanks?
We currently source our flexitanks from Malaysia and China, but are also in discussions with European suppliers for future business.
What network benefits do you perceive from being in the PBLA?
The quality of support and expertise that PBLA delivers is invaluable to each individual Transolve team member, as well as the business as a whole. The insights and camaraderie are priceless as the PBLA enables you to connect and liaise with colleagues who truly understand this operating space; where you can discuss the unique intricacies of bulk liquids logistics.
What is the group's approach to digitisation?
At Transolve, we use the market leading wisetech global platform: Cargowise. This technology enables us to optimise the supply chain and client experience across all modes and borders.
It is a single platform solution that provides real-time data visibility alongside comprehensive compliance without the need for manual data entry or excessive management. The duality of benefits it delivers is across the board; it increases our productivity, reduces costs and mitigates risks whilst giving clients confidence via real time tracking and true transparency of the freight forwarding process through its online portal.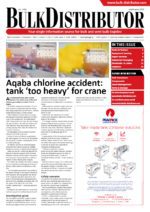 This article originally appeared in the July/August 2022 issue of Bulk Distributor.
view magazine