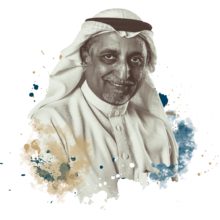 The Gulf Petrochemicals and Chemicals Association (GPCA) is proud to recognize Mohamed Al-Mady, former Vice Chairman and CEO, SABIC (1998 – 2015) and Founding Chairman, GPCA (2006 – 2015), with the 4th GPCA Legacy Award "Al-Rowad" (الرّواد) – The Honor of a Lifetime.
Mohamed Al-Mady will be recognized at a special award ceremony during the 16th Annual GPCA Forum on 6 December 2022 in Riyadh, Saudi Arabia for his role in developing and advancing SABIC and making tremendous contributions to the chemical and petrochemical industry in Saudi Arabia. Al-Mady, a renowned industry pioneer, will be awarded during GPCA's flagship event, where industry peers and senior leaders are expected to pay tribute to his accomplishments and celebrate his legacy.
During his management of the company, SABIC's global ranking grew from 25th in 1998 to 4th in 2015. Between 1998 and 2015, under Al Mady's leadership and thanks to the government's support, SABIC's assets quadrupled to USD 87.5 billion, its production capacity grew to over 65 million metric tons, net profit increased dramatically to over USD 5 billion, and its employees more than doubled.
Industry pioneers
Al-Mady is the latest industry pioneer to be recognized with the GPCA Legacy Award alongside H.R.H. Prince Faisal Bin Turki Bin Abdulaziz AI-Saud, Advisor to the Royal Court, Saudi Arabia and former Advisor to the Ministry of Petroleum and Mineral Resources; Yousef Bin Omair, former Minister of Petroleum and Natural Resources, UAE, former Group CEO, ADNOC and former Chairman, Borouge (3rd GPCA Legacy Award, 2021); Abdulaziz Al Zamil (1941 – 2019), former Minister of Industry and Electricity, Saudi Arabia, and former Chairman, SABIC (2nd GPCA Legacy Award, 2019); Ghazi Al-Gosaibi (1940-2010), former Minister of Industry and Electricity, Saudi Arabia, and founding Chairman, SABIC; Yousef Al Shirawi (1927 – 2012), former Minister of Development and Industry, Bahrain; and Abdulbaqi Al-Nouri (1929 – 2010), former Chairman and MD, PIC, Kuwait (1st GPCA Legacy Award, 2017).
This year, a specially developed Hall of Fame at the Annual GPCA Forum will showcase the Arabian Gulf Chemical Industry Pioneers who were recognized at previous editions of the Award. The exhibit will encompass interactive media narrating their achievements with a mixture of video, audio and text, providing delegates with a fully immersive experience of the history of the regional industry and the personalities who overcame the challenges of their time to establish a globally competitive regional industry.
Dr. Abdulwahab Al-Sadoun, Secretary General, GPCA, commented, "We are honoured to be recognizing Mohamed Al-Mady with the 4th GPCA Legacy Award "Al-Rowad" (الرّواد) for his contributions to the development and growth of the chemical and petrochemical industry of Saudi Arabia, including for putting SABIC on an upward trajectory of growth and significant global expansion. One of Al-Mady's key legacies in the region as our founding Chairman is the establishment of GPCA in 2006 as the first and only regional association to represent the interests of the chemical and petrochemical industry. I look forward to welcoming over 2,500 delegates from 90+ countries and 600 companies from across the globe to celebrate the legacy of Mohamed Al-Mady and make his achievements known to the current and future generations of young leaders."
Launched in 2017, the GPCA Legacy Award takes place on an annual basis and honours individuals who have made extraordinary contributions to foster and strengthen the chemical industry in one or more of the GCC states.
To find out more about the GPCA Legacy Award, visit: https://gpcalegacy.com/
To learn more about the 16th Annual GPCA Forum, visit: https://www.gpcaforum.com/