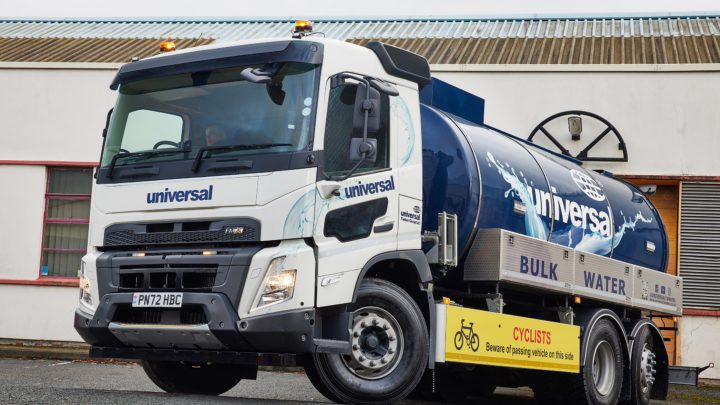 The business has experienced significant growth over the past few years and now operates a fleet of more than 100 commercial vehicles, working out of 21 depots nationwide.
While traditionally running with a rival manufacturer, the firm has turned to Volvo for this latest order – a mixture of replacement vehicles and fleet additions – due largely to the level of service and back-up it has received from the team at Thomas Hardie Commercials.
"We've bought five companies over the past six years, acquiring lots of kit along the way. One of them ran Volvos, which we inherited and the level of service we received from the dealership was second to none. We added our first two new Volvos, both Tridems, around three years ago and we've come back to them in large numbers this time," says Universal Tanker Group director, Simon Gunn.  
Breath of fresh air 
"Paul McNicholas and John McCluskey at Thomas Hardie Commercials have just been a breath of fresh air. They have delivered exactly what we were asking for. The product itself is top quality so when you add in that level of dealer support it makes for a package that's very hard to beat."
The first 6×2 FMX to arrive comes with a rear air suspension and a hydraulically steered tag axle. It is fitted with a remounted stainless-steel tanker and vacuum unit, supplied and fitted by RTN Clayton Valley.  
Powered by Volvo's 10.8 litre Euro-6 diesel engine, producing up to 380 hp and 1,800 Nm of torque, the FMX is driven through a 12-speed I-Shift automated gearbox – delivering perfectly timed gear shifts to improve safety, driveability and helping reduce fuel consumption.
The interior also features a dynamic 12-inch high-resolution instrument display with a user-friendly interface, plus a 9-inch side display providing infotainment and navigation. An added factory-fitted lower door window on the passenger side improves visibility.
"The rear steer axle is so important for our line of work," adds Gunn. "It really is a super bit of kit and allows the driver to manoeuvre far easier when working off-road on rugged and busy construction sites. We've also opted for a high chassis height, which gives us excellent ground clearance."
Disposal of liquid waste 
Expected to cover in the region of 80,000km a year the FMX will be used to remove and dispose of liquid waste from septic tanks, sewage treatment plants, pump stations and other facilities across the UK.  
"We service a great number of domestic septic tanks in the UK as well as removing waste for many big-name businesses," says Gunn.
"We're also now supplying large volumes of non-drinking water to construction sites. It's an increasingly busy business and we need trucks and back-up that we can rely on."