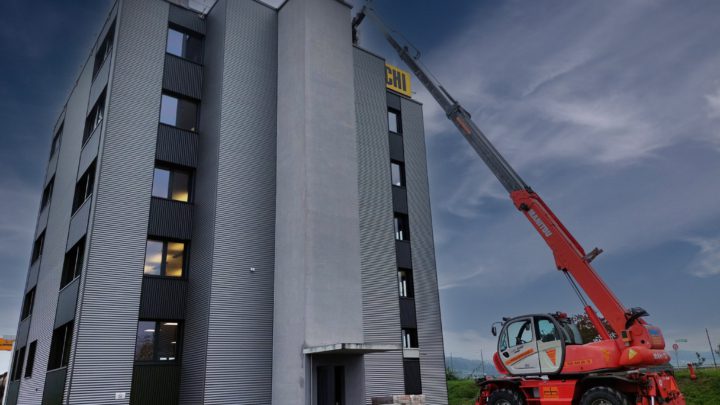 In addition, the project will lead to greater independence in terms of power supply. The strategic corporate goal of CO2 reduction is to be achieved, among other things, through the realisation of further photovoltaic systems at Bertschi locations – a concrete project exists for the headquarters in Dürrenäsch.
As part of its logistics infrastructure, the globally active Bertschi Group operates an important rail terminal in Birrfeld for container transhipment between road and rail. The site is also home to a multi-storey office building, a container workshop and a tank cleaning facility.
Energy-intensive activities 
Due to energy-intensive activities at the site, the total electricity consumption is 750,000 kWh. This corresponds to the annual consumption of approximately 187 households. With the installation of solar panels on the roofs of the three buildings, 240,000 kWh of energy can now be produced annually, covering about 30% of the electricity needs.  
A further 10% of the electricity is saved through process optimisations and investments in system renewals.
"In our corporate strategy, we have set binding targets for reducing our CO2 emissions and, to this end, we have also targeted the construction of solar plants at our locations. I am pleased that we have been able to realise a further step towards achieving these goals with the project in Birrfeld," explains Hans-Jörg Bertschi, chairman of the board of directors of the Bertschi Group. 
"Through intermodal transport – Bertschi handles 90% of its orders involving rail and short sea – we can already save 70% of CO2 emissions compared to direct road transport. The use of solar energy for our terminal activities enables us to reduce our ecological footprint further and offer even more sustainable services," adds Jan Arnet, CEO of the Bertschi Group.