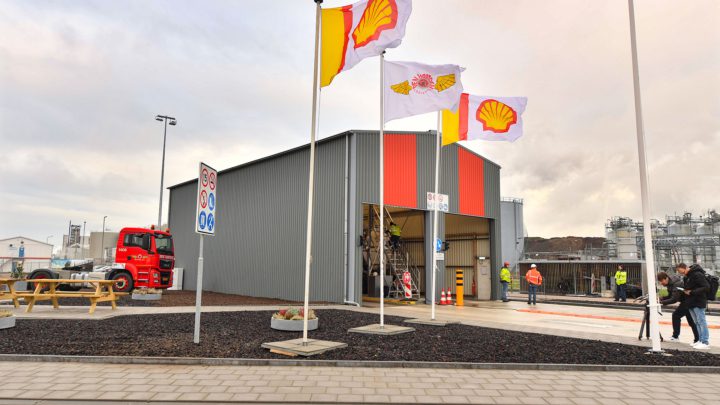 The new and improved drop and swap location is a result of close collaboration between both companies and a major step forward in sustainability, efficiency and cooperation.
The new LSC is close to the production area and the storage terminals at the heart of Rotterdam's chemical industry. Shell and Den Hartogh designed and built this new facility with the following objectives in mind:
Reduce the carbon footprint from loading truck emissions by utilising renewable fuels and reducing the driving distance on-site.
Improve efficiency and relieve the driver shortage by reducing waiting time for truck drivers and providing a convenient rest stop/hospitality centre on site.
Optimise and digitise logistics processes onsite by adding flexibility and just-in-time equipment arrival at the load rack, freeing up additional loading capacity.
Reducing carbon footprint
Reducing the carbon footprint and other objectives is key to Den Hartogh and in line with its goal to reduce CO2 by 25% in 2025 compared to 2019. All are closely embedded into the Den Hartogh pillars 'safety, profitable growth, employee engagement, customer satisfaction and environmental sustainability'.
With their LSC trucks switching to Shell Renewable diesel (HVO) they are reducing their CO2 on onsite activities.
Futureproof
Ruud Welleman, director Logistics Service Centers, said: "Improved efficiency and sustainability go hand in hand in this project. Reducing our carbon footprint, a higher customer satisfaction and improved facilities for our drivers are what makes this a great corporation. During the design and building phase we operated as true partners."
"With this new LSC we are ready for the next years and looking forward to putting it into full operation. It is an exciting day for both Shell and Den Hartogh.