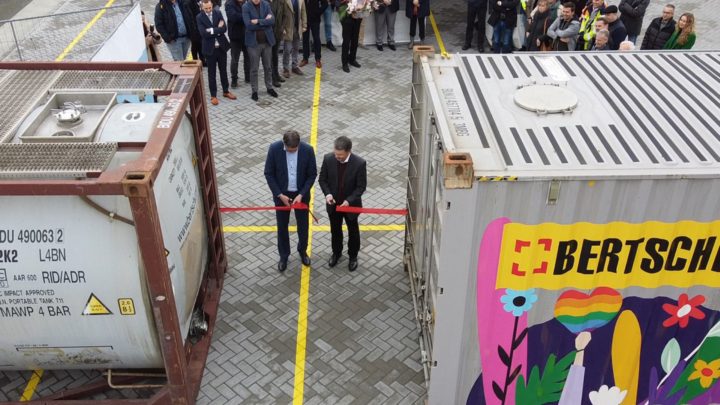 The expansion project increases Bertschi's service offering to customers. The Swiss chemical logistics company has built an extensive network for rail, road, and waterway transport throughout Europe. Building on this strategy, Bertschi opened its 12,000 sqm rail terminal at ValuePark Terneuzen in May 2008. In November 2022, in a move towards further CO2 reduction, increased capacity, and unique service offerings, the expansion project was completed doubling the terminal's size to 22,000 sqm, with space for 1,000 TEU or about 25,000 tonnes of product.
Five times a week, a train arrives from Antwerp to be loaded at the Bertschi terminal. At ValuePark, Bertschi tank containers fill up the trains, upon which they return to Antwerp, where they are transferred to trains heading for destinations all over Europe.
"Some 75 percent of all our containers and tank containers are transported via rail, 15 percent by barge and short sea, and only 10 percent by truck. These rail figures are approximately the same for our Terneuzen operations," said Jan Arnet, CEO of Bertschi Group. The expansion of Bertschi's facilities adds not only space for storage but also an extension of the rail track by 225m, allowing for longer trains to arrive at the facility. Through intermodal logistics chains, Bertschi saves around 70 percent of CO2 emissions when compared with road transport, the logistics firm says.
In addition to this, all the on-site terminal machines at Terneuzen are fuelled by the renewable diesel alternative hydrogenated vegetable oil (HVO) or biodiesel. Bertschi's switch to biofuels for these machines saves 90 percent of emissions per litre and is thus equivalent to CO2 savings of several hundred tons a year.
Increased capacity
Customer demand was the driving force for the expansion, the company said. "In the past few years, even during the pandemic, we noticed a growing demand for storage facilities for containers at our Terneuzen terminal," explained Barry Mol, managing director of Bertschi Netherlands.
Reaching maximum capacity at peak moments made it clear that an expansion was necessary. "Larger storage facilities and longer trains are necessary to support our ambition to become what we call a multi-colour terminal," Mol continued. Since Bertschi's standard tank containers weigh a significant amount, additional room is available for containers with lighter cargo to fill train wagons. "The more customers that make use of our train to Antwerp, the more price-efficient it will be compared with trucking. And less truck mileage is better for the environment, too," he concluded.
Bertschi boasts a unique preloading service at its storage facilities, where companies can store their containerised products on the terminal pending customer request. This means that chemical companies will always have products on stock at the terminal, saving them their own storage space, production planning issues, and supply chain uncertainty.
Another special service is the use of on-site logistics with yard trucks, which reduces the waiting time for truck drivers to 20 minutes. "Although it is our ambition to reduce the amount of road transport, we still receive trucks at our terminal and we have arranged a situation in which the waiting time for a truck driver is brought back to a minimum," said Mol. These yard trucking facilities have also been expanded with the enlargement of the terminal.
Accompanying the extension of the rail track by 225m, a railway switch has been installed, enabling the locomotive to move from the front of the train to the back. "It will then no longer be necessary for the train to leave our terminal in reverse to the customer's complex to change the position of the locomotive. This saves a lot of time and unnecessary manoeuvring," Mol added.
Relationship with Dow
Terneuzen is part of North Sea Port, a multimodal port complex with an emphasis on inland shipping and access to the hinterland. This multimodality coupled with customer proximity makes it an ideal location for Bertschi, the logistics firm believes.
"We situated this terminal specifically at the ValuePark Terneuzen as it is ideally located for the chemical production and distribution of Dow and other customers," Arnet explained. ValuePark Terneuzen is a joint venture between Dow Benelux and North Sea Port and is located between the main ports of Rotterdam and Antwerp, where Bertschi also has locations.
"Dow Terneuzen is Dow's second largest manufacturing location in the world. Here, we are the central point for supporting our services in Europe, the Middle East, Africa, and India," said Peter Van Egerschot, senior logistics director of Dow Europe. The Value Park, which is located on the west side of Dow Terneuzen, has direct connections to the railroad, the road network, and international waterways.
"Before this expansion, Dow already benefited from Bertschi's rail terminal at the ValuePark for more than a decade. We look forward not only to increasing intermodal services, but also to accelerate supply chain efficiency at our site through innovative and sustainable concepts," Van Egerschot continued.
Bertschi's relationship with Dow is a long standing one based on mutual trust and shared supply chain goals. "We take pride in the collaboration with this most valued customer and look forward to our expanded service offering to them," concluded Arnet.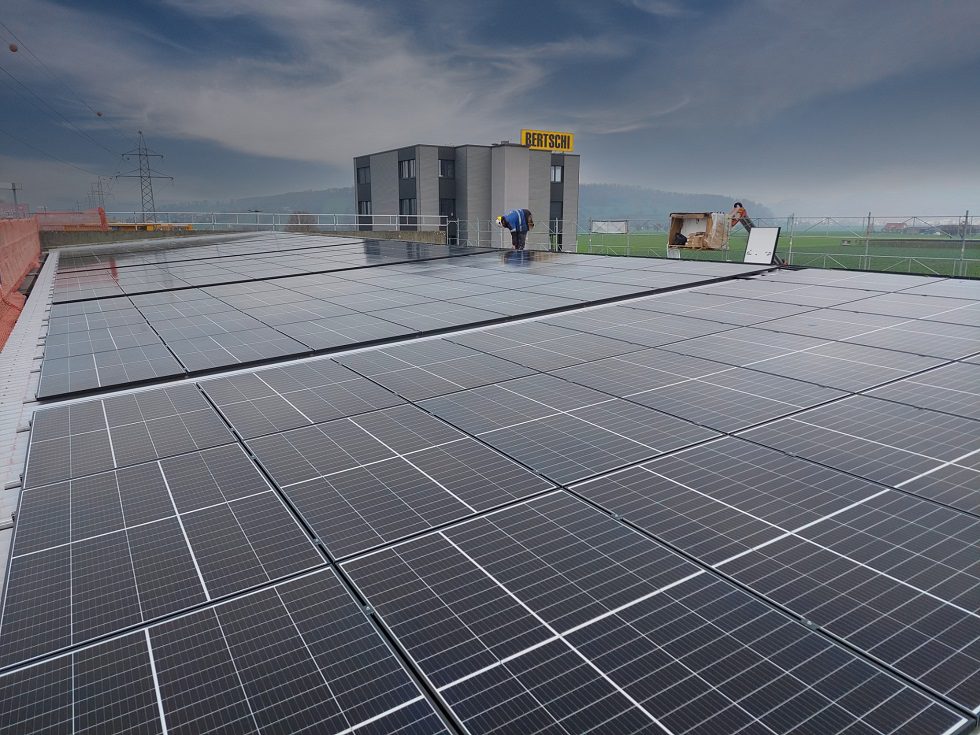 Going solar
At its Birrfeld (Switzerland) rail terminal site, Bertschi has installed a total of three solar plants with an annual output of 240,000 kWh.
In addition, the project will lead to greater independence in terms of power supply. The strategic corporate goal of CO2 reduction is to be achieved, among other things, through the realisation of further photovoltaic systems at Bertschi locations, including a concrete project for the group headquarters in Dürrenäsch.
As part of its logistics infrastructure, the group operates an important rail terminal in Birrfeld for container transhipment between road and rail. The site is also home to a multi-storey office building, a container workshop and a tank cleaning facility. Due to energy-intensive activities carried out at the site, the total electricity consumption is 750,000 kWh. This corresponds to the annual consumption of approximately 187 households.
With the installation of solar panels on the roofs of the three buildings, 240,000 kWh of energy can now be produced annually, covering about 30 percent of the electricity needs. A further 10 percent of the electricity is saved through process optimisations and investments in system renewals.
"In our corporate strategy, we have set binding targets for the reduction of our CO2 emissions and, to this end, we have also targeted the construction of solar plants at our locations. I am pleased that we have been able to realise a further step towards achieving these goals with the project in Birrfeld," explained Hans-Jörg Bertschi, chairman of the board of directors.
"The use of solar energy for our terminal activities enables us to reduce further our ecological footprint and offer even more sustainable services," added CEO Jan Arnet.
Accordingly, the solar installations in Birrfeld are only intended to be an intermediate step, with other locations following suit. There are concrete plans to install another system at the group headquarters in Dürrenäsch, which can generate up to 460,000 kWh of electricity and thus cover the annual needs of 115 households.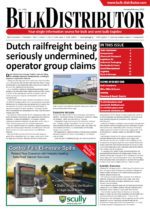 This article originally appeared in the January/February 2023 issue of Bulk Distributor.
view magazine