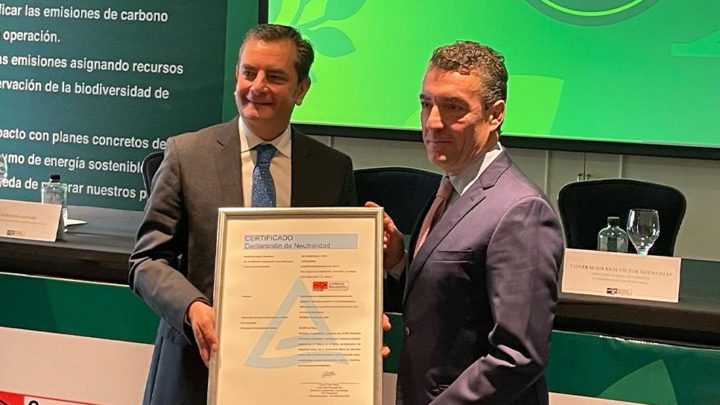 The Carbon Neutrality UNE-14064-3:2019 certification recognizes Contecon Manzanillo's commitment to global initiatives to combat climate change, promote renewable energy and decarbonise ports and maritime transport.  
Earning this distinction favouring the environment consolidates Contecon's leadership as a vanguard port terminal in favour of Manzanillo, Colima and Mexico. 
The carbon neutrality certificate highlights the company's efforts to offset greenhouse gas (GHG) emissions through reduction and compensation practices. These efforts include counteracting and maintaining zero emission from equipment such as cranes, port tractors, air conditioners and other polluting sources; compensating for emissions through sponsorships of forests and protected areas; and initiating sustainable initiatives like the execution of circular economies and incorporation of technologies that reduce the operational impact of the Port of Manzanillo – the primary port in the Mexican Pacific. 
José Antonio Contreras, Contecon Manzanillo chief executive officer, explained the certification's relevance for Mexico's port sector and industrial activity in general. 
"We are proud to be the first terminal in Mexico verified under this regulation. At Contecon, we are quite clear about maintaining an agenda aligned with our business in which climate change is combatted and the use of renewable energy is encouraged.
"More importantly, we are moving firmly towards the decarbonization of ports and maritime transport of Mexico. Having this type of certification portrays us as an organisation that demonstrates commitment, talent and a real position for change in the face of environmental problems."
Total offset emissions amounted to 25,369 tons 
Passing the audit performed by TÜV RHEINLAND, Contecon Manzanillo demonstrated its ability to adequately reduce its greenhouse gas emissions and move forward promptly towards an energy transition across Mexico's maritime transport. In 2021, the company's direct and indirect CO2e emissions amounted to 25,368.67 tons, while total offset emissions amounted to 25,369 tons. 
"We recognise Contecon Manzanillo's vision and leadership in the industry by maintaining its operations in constant improvement since being awarded previous certifications for its management system, and now voluntarily submitting to verification by TÜV Rheinland of Mexico for its greenhouse gas emissions generated in 2021 and the neutralisation process that was carried out.  
"Granting this certification is a historic event for Contecon Manzanillo. At TÜV Rheinland de México, we are proud to have collaborated with them in their journey to become the first port terminal in Mexico to obtain the carbon neutral certification," said Hermann Saenger, TÜV Rheinland de Mexico country manager. 
The certification delivery protocol event on 27 January was attended by federal authorities headed by rear admiral Víctor Manuel Ozuna Díaz, general director of Port Development and Administration and representative of navy secretary admiral José Rafael Ojeda Durán; and Lic. Franciso Rodríguez García, colima secretary of economic development.  
Secretary García congratulated Contecon Manzanillo for the milestone: "On behalf of the government of the state of Colima and Governor Indira Vizcaíno Silva, I am pleased to recognise a company that has worked so arduously to achieve the ISO 14064-3 certification and contribute to sustainability. I want to make clear the recognition of the people of Colima to José Antonio Contréras and to all members of his team who work tireless in this company." 
"The certification also signifies the commitment and effort of Mexican ports to achieve the highest operating standards at the international level, as well as the genuine interest in actions that are friendly to the environment, thus supporting our human right to a healthy environment," said Rear Admiral Víctor Manuel Ozuna Díaz, general director of Port Development and Administration. 
According to the study Energy Transition of Maritime Transport: Strategic Opportunities in Mexico conducted by the Global Maritime Forum and the University College London, regional and global maritime transport effectively connects economies through the movement of goods and currently represents between 80 percent and 90 percent of world trade.
Increasingly sustainable practices
The shipping sector emits two to three percent of global GHG emissions and contributes around 13 percent of sulfur and nitrogen oxide emissions to global air pollution. Hence the urgency and commitment to transform the port industry into increasingly sustainable practices. 
"At Contecon, we know the transition of fuel in maritime transport and the commitment of more organisations in our sector to become zero-emission industries is a challenge. At the same time, it is an opportunity that can unleash investment for Mexico, catalyze innovation and create the sustainable growth necessary for trade in the country, the entire region, and its international connections.  
"To do this, the sector will need to develop and build new ships, integrate and adopt innovative technological solutions, and develop new fuel supply chains and shore-based infrastructure while taking advantage of synergies with other sectors seeking to decarbonize their business activities," said Mr. Contreras.  
"We reiterate our commitment to the environment through the drive towards decarbonization in our processes and by ensuring a better future for all Mexicans. Contecon's initiatives are aligned with the international commitments led by the United Nations and organisations such as the Global Maritime Forum for sustainable global maritime trade," he added.