From the Russia-Ukraine war to the global fluctuation in raw material prices, heads of supply chain have to navigate multiple challenges in the next 12 months.
In recent years, there has been a need to transform the supply chain to increase resiliency during times of global and economic upheaval. Such trends define the background to this year's Logichem conference which takes place on 14–16 March at the Postillion Hotel and Convention Centre, Rotterdam.
The Logichem organisers laid out these trends in a whitepaper ahead of the event.
Digitalisation
For example, heads of supply chain are investing more in digitalisation. Top of the list are data management tools which can consolidate existing siloes and provide real-time insights across the end-to-end (E2E) supply chain. Other software, such as track and trace and SAP, are enabling heads of supply chain to integrate advanced data management and avoid delays to increase visibility.
Digitising the supply chain is also helping to reduce waste and unnecessary trips, while saving money. By achieving greater supply chain visibility in a volatile market, heads of supply chain can assess any correlations, and respond sooner to supply chain shocks, delays, and raw material shortages.
3PLs
Chemical manufacturers are also turning to 3PLs, such as Kemira to improve supply chain efficiency. Kemira's TCM knowledge is optimising production processes through increased on-site service and reporting, and advanced troubleshooting support. By implementing Kemira's smart process management systems, chemical manufacturers are seeing a reduction in their total chemical spending and are maximising their supply chain efficiency.
Collaboration
Increasing supplier collaboration enables supply chain chiefs to improve resiliency during a volatile economic environment. Partnering with sophisticated networks to provide end-to-end collaboration provides the opportunity to predict and tackle challenges more accurately. Other benefits of supplier collaboration include improving quality, quantity, and efficiency during shock events. Heads of supply chain can also increase business growth by aligning closely with key stakeholders and third parties.
Supplier diversification
By diversifying suppliers, chemical manufacturing companies can work to tackle increased market volatility. Since the Covid pandemic, supply chain heads have learned the importance of diversifying their supplier base. Increasing the number of suppliers and 3PLs to work with, helps to plug gaps and increase flexibility during periods of high volatility and surges in demand.
By having a digital and resilient supply chain in place, chemical manufacturers can overcome challenges during economic uncertainty and market volatility. This will enable heads of supply chain to tackle future problems, safe in the knowledge that their supply chain can withstand them.
Working together
Under the title 'Building Reliable Chemical Supply Chains. Together', this year's Logichem runs over the three days and comprises a mix of keynote conference sessions and drill-down roundtable discussions.
Day 1 opens with a keynote presentation on 'Ensuring Reliability of Your Supply Chain Networks' by Pierrick Le Gallo, president EMEA, of Dupont. This will outline the transformation of DuPont from a chemical to a premier multi-industrial company, and the consequences of this transformation on supply chains and logistics.
This is followed by a case study on 'How to implement real-time shipment visibility for your third-party suppliers to improve your end-to-end supply reliability and resolve operational issues before they escalate' by Robert Nessing, global head of supply chain, fungicides, BASF.
An interactive panel discussion is up next addressing the question 'How can you implement a proactive approach to dealing with the impact of unreliable logistics infrastructure, rising transportation costs, and raw materials shortages on your supply chain?'
Robert Nessing is joined by Hanno Breummer, VP supply chain & logistics, Covestro, Jori Fabricius, VP global supply chain management, Kemira, and Gabrielle Willenbrinck, VP logistics, Lanxess.
Finally, the session returns to another case study on 'How to decentralise your upstream supply chain to keep your inventory as close to your manufacturing site as possible and efficiently respond to new risks and opportunities', with Jean-David Hassan Savon, global procurement and commercial director, Trinseo.
The roundtables over the three days cover a diverse range of topics, such as: Managing Global Supply Chain Volatility, Increasing Supplier Collaboration, Improving Value-Added Services, Enhancing Planning Capabilities, Reclaiming Reliability, and Creating Sustainable Partnerships.
https://logichem.wbresearch.com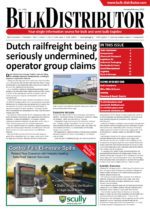 This article originally appeared in the January/February 2023 issue of Bulk Distributor.
view magazine