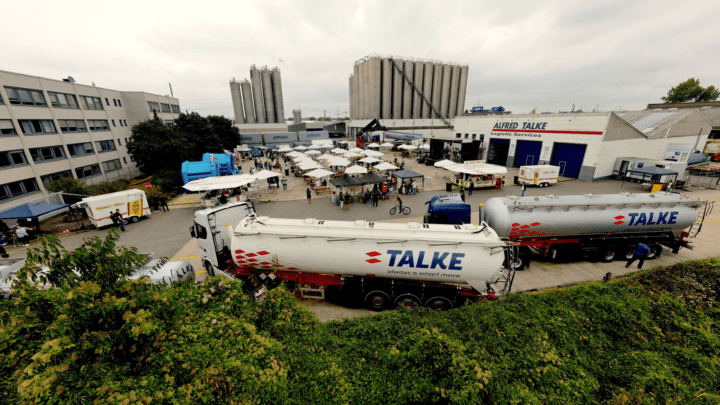 The company has seen a significant increase in global sales compared to 2021. Growth in overseas business has exceeded expectations and positively contributed to the Group's earnings. The company sees challenges for the domestic market because of the energy crisis and its impact on the industry. To effectively address these, the company has introduced a performance program.  
Strategic decisions taken in 2022 with a focus on sustainability 
TALKE critically reviewed and updated its mission statement and strategy in its anniversary year. In addition to the key areas 'customer centricity' and 'problem-solving expertise', the company defined 'responsibility' as a key pillar of its strategy and assigned dedicated management resources. 
TALKE's sustainability framework, Crafting Responsible Logistics, covers four areas of action, which the company is progressively fleshing out and implementing. The company has also forged ahead with its digitisation initiatives. In this context, TALKE has introduced real-time tracking in the transport area and automated processes through various SAP extensions. 
Germany: Growth lower than expected – TALKE reacts to performance program 
Like many other companies, especially in the chemical industry, TALKE finds itself in a challenging economic environment in the domestic market. As a partner of the largest companies in the chemical industry, TALKE is affected by their negative development and relocation decisions. Consequently, TALKE's business in Germany has experienced very inconsistent growth.
While some locations and business segments have shown resilience, others have been impacted by, in some cases, significant declines in volume. Businesses in basic chemicals and the automotive sector buck the overall industry trend. In contrast, growth was experienced in parts of the speciality and consumer chemicals sectors in defiance of the general trend. For example, TALKE has won important new customers in the battery chemicals sector and expanded the on-site logistics segment. 
Overall, TALKE's German operations still failed to meet expectations, however. To address the current situation, the company has launched a performance program. This includes increasing process efficiency, further expanding sales activities, and better integrating individual solutions for greater customer focus. TALKE is also exploring new approaches to structuring the Transport Division. Among other things, this includes increasing intermodal transport operations.
Activities in Spain expanded and key logistics projects finalised 
TALKE has expanded its presence in Spain through the joint venture Global-TALKE. The company has opened the first phase of a new logistics centre on a 40,000 m² site in Tarragona. In addition, Global-TALKE has taken over another tank cleaning facility in Zaragoza. These investments increase the regional capacity for tank cleaning services and improve service quality.  
TALKE sees great market potential worldwide for its services in the planning, engineering, procurement, and construction of logistics facilities. For this reason, the company plans to significantly expand its activities and expertise in this area with the new global organizational unit Engineering Solutions and Projects.
The team brings together international expertise that is then applied locally and tailored to each customer's specific needs. In addition to many engineering and consulting contracts in Asia and Europe, TALKE has also completed the construction of a logistics facility for polypropylene pellets in Poland. The project encompassed the construction of 60 silos and integrated packaging systems, which form the core of the logistics facility designed by TALKE. 
Middle East: Record results with a special focus on safety 
TALKE has completed its chemical hub in Dubai in the Middle East region with a fully automated filling facility directly connected to the hazardous materials warehouse. In addition, the company has decided to build a second multi-user logistic centre on a 300,000-square-meter site at the Jubail Commercial Port in Saudi Arabia.
The new distribution centre will be used by the surrounding industry and offers a comprehensive, integrated range of services. The company has received multiple awards for its high safety standards, such as commendations for achieving 20 million working hours without any lost-time incidents in the S.A. TALKE joint venture and 6.5 million working hours without any lost-time incidents in Qatar. 
USA: Growth exceeds expectations, and new facility opened 
TALKE has had a subsidiary in the USA since 2016. In 2022, TALKE opened a new Business and Transportation Centre in Mont Belvieu near Houston. The branch serves as the base of operations for a transport fleet of over 100 trucks, including equipment and as the new administrative headquarters of the company. TALKE employs around 400 team members in the USA. 
Asia-Pacific: Expansion into Malaysia takes shape 
TALKE is expanding into the Asia-Pacific region and building a new chemical logistics centre in Port Klang, Malaysia's largest port, per the latest sustainability standards. The construction meets the Silver level of the LEED (Leadership in Energy and Environmental Design) certification process developed by the US Green Building Council.  
With a strategically advantageous geographic location as a hub for the Asia-Pacific region, TALKE sees great potential for developing an integrated facility for polymers and chemicals. The hazardous materials warehouse is scheduled to begin operation in the summer of 2023. TALKE is convinced that the region and its facilities will be strategically important to many customers in the chemical and petrochemical industries. TALKE sees its commitment in Malaysia as the launch pad for further developments in the Asia-Pacific region. 
Alfred Talke, managing partner at TALKE, said: "2022 was a turbulent year, in which the global uncertainties impacted different regions to varying extents. With our business activities worldwide, we have shown that we are well-prepared for the future.
"We continue to see challenges for our business in the domestic market, but also many opportunities due to the changes in the market. We are addressing these challenges with our performance program, which will help us to further expand our business on a sound footing."