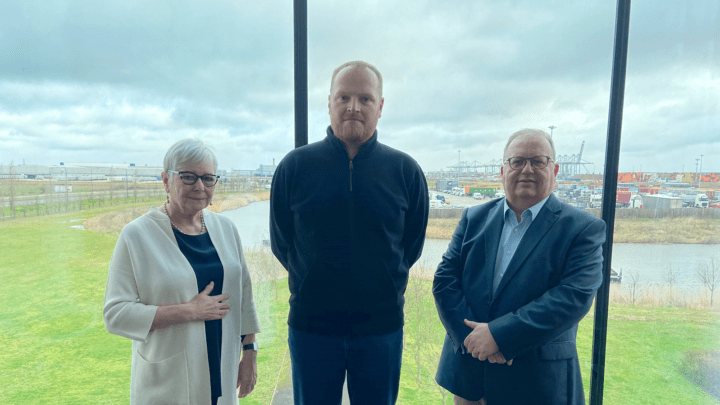 The Thames Freeport is an economic zone located in the Thames Estuary and the UK's largest port, the Port of London, offering businesses access to Europe's largest consumer market and connectivity to 18 million people over 1,700 acres of development land.
Thames Freeport is a partnership between Ford, Forth Ports Limited, and DP World, with over £4.6 billion in new public and private investment planned, creating over 21,000 new jobs and generating many more jobs across the supply chains. Significant investment in training and skills will help to 'level up' the communities and businesses in East London and South Essex. 
Green and innovative freeport 
The Thames Freeport is already generating new business growth, creating over 500 new jobs, with six businesses joining its sites offering financial incentives. The government announcement reinforces the work already in place to boost investment speed, with international partnerships forming part of a comprehensive Trade and Investment Programme to increase global trade. Thames Freeport is also recognised as a centre of innovation, decarbonised fuels, smart technology, and light freight on the river Thames, setting a standard for a green, net-zero freeport of the future. 
To strengthen the board of the Thames Freeport, three non-executive directors have been appointed to provide strong leadership, governance, and private and public expertise. The appointees are Paul Livingston, chief executive and chair, Lockheed Martin UK, prof Matt Hamnett, an expert in strategy, policy and major programme delivery, and Joan MacNaughton CB HonFEI (Lady Jeffrey), an influential global energy and climate policy figure.
Levelling up 
Levelling Up Minister, Dehenna Davison MP, said: "We're delivering on our mission to grow the economy and level up right across the UK. Thames Freeport is up and running and will bring high quality jobs, investment and trading opportunities for businesses in the region."  
Rt Hon Ruth Kelly, chair of Thames Freeport, commented: "Thames Freeport offers expanding businesses in green tech, low carbon logistics and manufacturing the advantage of the substantial investment incentives, streamlined customs procedures and co-location within a flourishing green freeport ecosystem.  The addition of three industry heavyweights to our board as further momentum to our freeport offering. We welcome you to join us in this journey towards a better, greener and global future"
Charles Hammond OBE, chief executive of the Forth Ports Group (owner and operator of the Port of Tilbury), said: "Today's announcement is another major milestone for the Thames Freeport – we are officially open for business.
"Over the coming months, we will begin to see the green shoots of the freeport's land development, infrastructure projects, skills initiatives and innovation programmes take shape. The appointment of a strong management team and board will boost the freeport activity and complement our business strategy, which is centred on accelerating growth in our low carbon logistics offering at the heart of Europe's biggest consumer market and the South East's industrial base."
"Freeports can be a real catalyst for change. To that end, we welcome the continued engagement from officials and ministers to refine the process and improve the policy." Ernst Schulze, UK chief executive of DP World, said: "We very much welcome the news that final government approval has been granted to Thames Freeport.
"As well as further cementing London Gateway's Logistics Park as the UK's premier port-centric logistics solution, Thames Freeport will also create local jobs and help ensure that the UK continues to be an attractive destination for inward investment.
"DP World plans to make £1bn of investment into the UK over the next decade, including the £350m new fourth berth at London Gateway that is currently under construction. We will continue to look at options to enable the UK economy's global connectivity, create high-skilled jobs, invest in clean energy technologies, and support the development of local industry."
Strategic corridor 
Tim Slatter, Chairman Ford Britain, said: "Ford welcomes the government's approval for the Thames Freeport to begin operations, of which Dagenham is a key part. This decision will drive sustainable and inclusive growth for existing businesses along this strategic corridor, and provides huge potential for local regeneration and new job creation. Importantly for Ford and its thousands of Dagenham-based employees, this commitment to the Thames Estuary as the UK's global gateway for trade will provide green-tech growth, skills development and advance future mobility solutions for our industry."
Councillor Mark Coxshall, leader of Thurrock Council said: "The approval for the Full Business Case for Thames Freeport will further unlock huge opportunities for the borough and beyond. It will create thousands more skilled jobs, world class training opportunities and bring cutting edge environmentally friendly industries right on our doorstep, with new public and private investment in the heart of Thurrock.
 "I am delighted that this ambitious project has achieved the final seal of approval and excited about the future of Thames Freeport and the prosperity it will bring to Thurrock."
Unlocking quality jobs 
Councillor Darren Rodwell, Leader of Barking and Dagenham Council, said: "This is fantastic news for the people of Barking and Dagenham and for London and the southeast as a whole.
"The Thames Freeport will unlock quality jobs and quality investment for the capital. It is another landmark project delivered for our residents which cements B&D's place as a major hub for logistics in the capital."
Councillor Ray Morgon, the leader of Havering Council, said: "We welcome the announcement of the new Thames Freeport, it is another step forward in recognising a significant area of investment and growth. We look forward to ensuring Havering benefits from this through creating new opportunities for residents, businesses and the wider borough."