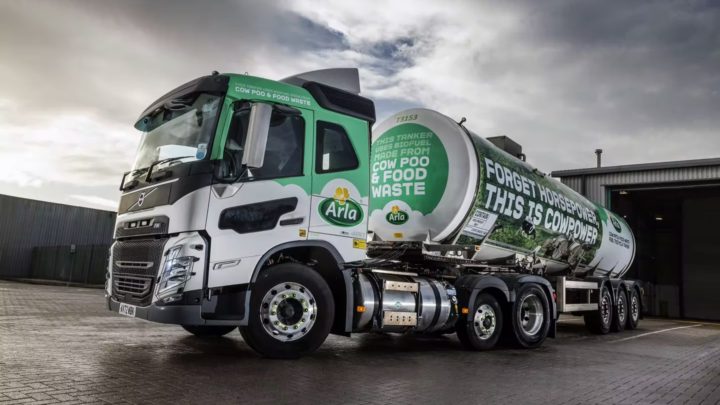 To this end, the co-operative has taken delivery of seven new Volvo FM LNG 6×2 tractor units to help the business meet its targets to reduce the CO2 emissions of its operations by 2030.
Arla opted for Volvo after having trialled its gas technology against another manufacturer.
Supplied by Volvo Truck and Bus Centre South & East, the new FMs come equipped with sleeper cabs. They will be used for back-to-base operations collecting and delivering milk from Arla's farms and depot operations in Leeds and Burton-On-Trent to processing sites across the country.
Richard Wilson, inbound logistics director at Arla Foods, said: "We have some ambitious sustainability targets to meet in the coming years, and reducing emissions from our logistics operations will be key to helping us meet these. We have trialled dual fuel vehicles which proved successful, but these new units are an even bigger step up for us. We are now turning cow poo from our farms, and food which would otherwise go to waste, into a source of renewable fuel.
"These new bio-LNG trucks will play a crucial part in our plans to hit our 2030 sustainability targets – which is a 63 per cent reduction of CO2 against our baseline from 2015 for our own fleet operations. Who knows what the future holds in terms of electric and hydrogen technology but for now and the medium term we believe trucks powered by bio-LNG are the best route for us to make a significant carbon reduction in the fleet."
Unique approach
The FM LNG benefits from Volvo's unique approach to gas engine technology, using small amounts of diesel to initiate ignition of the air-fuel mixture. This enables the Volvo G13C engine to deliver the same 460 hp and 2,300 Nm of torque as a standard 460 hp diesel, with matching driveability, reliability and service intervals. The gas powertrain also provides engine braking just like a regular diesel tractor unit – and without needing a separate retarder which adds weight and complexity.
Paired with Arla's eye-catching milk tanker trailers, the new FMs are expected to cover in the region of 200,000 km a year and have been backed with five-year Volvo Gold contracts to guarantee maximum uptime.
They will refuel at Gasrec's flagship open-access site at Daventry International Rail Freight Terminal (DIRFT) and at the Gasrec built station at Reed Boardall's depot, in Boroughbridge.
Visibility of the new FMs is boosted thanks to large windows, narrower and raised A-pillars, lowered door lines and excellent side mirrors, plus the sleeper cabs are fitted with an additional rear window, as well as a lower window on the passenger door.
A high front axle helps ground clearance when operating off road, and the exterior also benefits from a steel front bumper and brushed Alloy wheels.
The seven FM LNG trucks replace seven diesel tractor units in Arla's commercial vehicle fleet.
Universal order
In another order for Volvo, waste-water specialist Universal Tanker Group has taken delivery of the first of a total of 38 new FMX rigid trucks that are set to join its rapidly expanding fleet throughout the next 12 months.
The business has experienced significant growth over the past few years and now operates a fleet of more than 100 commercial vehicles, working out of 21 depots nationwide.
While traditionally running with a rival manufacturer, the firm has turned to Volvo for this latest order – a mixture of replacement vehicles and fleet additions – due largely to the level of service and back-up it has received from the team at Thomas Hardie Commercials.
"We've bought five companies over the past six years, acquiring lots of kit along the way," explained Universal Tanker group director Simon Gunn. "One of them ran Volvos, which we inherited and the level of service we received from the dealership was second to none. We added our first two new Volvos, both Tridems, around three years ago and we've come back to them in large numbers this time.
"Paul McNicholas and John McCluskey at Thomas Hardie Commercials have just been a breath of fresh air. They have delivered exactly what we were asking for. The product itself is top quality so when you add in that level of dealer support it makes for a package that's very hard to beat."
Ideal working environment
The first 6×2 FMX to arrive comes with rear air suspension and a hydraulically steered tag axle. It is fitted with a remounted stainless-steel tanker and vacuum unit, supplied and fitted by RTN Clayton Valley. Powered by Volvo's 10.8 litre Euro-6 diesel engine, producing up to 380 hp and 1,800 Nm of torque, the FMX is driven through a 12-speed I-Shift automated gearbox – delivering perfectly timed gear shifts to improve safety, driveability and helping reduce fuel consumption.
The FMX's day cab provides an ideal working environment, with Universal Tanker Group opting for Volvo's Drive package and Media package which add a range of optional extras to enhance driver comfort and functionality.
The interior also features a dynamic 12-ins high-resolution instrument display with a user-friendly interface, plus a 9-ins side display providing infotainment and navigation. An added factory fitted lower door window on the passenger side improves visibility.
"The rear steer axle is so important for our line of work," added Gunn. "It really is a super bit of kit and allows the driver to manoeuvre far easier when working off-road on rugged and busy construction sites. We've also opted for a high chassis height, which gives us excellent ground clearance."
Expected to cover in the region of 80,000 km a year the FMX has been supplied on a seven year Volvo Gold Contract, for maximum uptime. It will be used to remove and dispose of liquid waste from septic tanks, sewage treatment plants, pump stations and other facilities across the UK.
"We service a great number of domestic septic tanks in the UK as well as removing waste for many big-name businesses," said Gunn. "We're also now supplying large volumes of non-drinking water to construction sites. It's an increasingly busy business and we need trucks and back-up that we can rely on."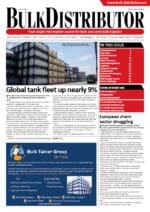 This article originally appeared in the March/April 2023 issue of Bulk Distributor.
view magazine