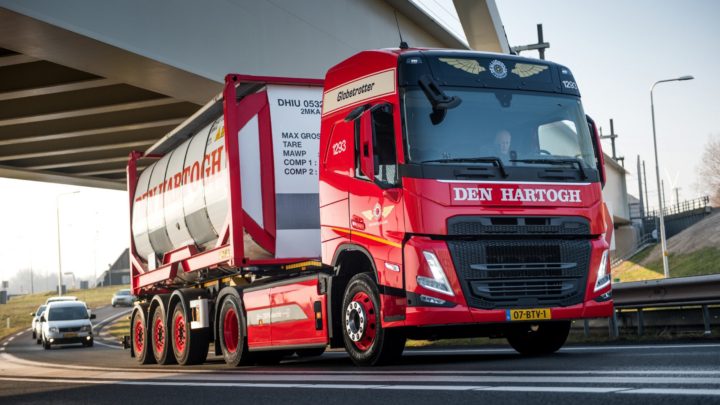 The company has purposely chosen the lightest possible electric truck with maximum load capacity, without compromising safety and driver convenience.
In 2025, Den Hartogh wants to have reduced its transport-related CO2 emissions by 25 percent and to be fully CO2 neutral in 2050.
Group managing director Pieter den Hartogh commented: "These are serious ambitions. We want to minimise our impact on the environment and work as sustainably as possible. For that reason, we are continuously looking for opportunities to enable us to reduce our emissions. We do that with electric as well as LNG-powered trucks. The addition of the Volvo FM Electric is a new milestone."
The Volvo FM truck will be used in the Rotterdam cluster where Den Hartogh implements the dedicated last and first mile of intermodal transport, explained Joep Aerts, business unit director Liquid Logistics. "We load and unload tank containers at our big customers. This means that we have relatively short trips, with the truck returning to the site every evening so that it can be charged at night. This is a way of using electric transport at all our bigger international intermodal hubs."
Legislation still lags behind reality
The company purposely chose the lightest possible electric truck with maximum load capacity. The Volvo FM Electric has a GCW of 50 tonnes. By choosing five batteries instead of six, there is even more load capacity.
"We don't need to make any compromises on safety either," Aerts continued. "This Volvo FM electric has every possible safety feature, which we extended with cameras in the wing mirror.
"For us, it's also important – certainly in view of the use of the truck – that the Volvo FM has easy access. That's really great for our drivers."
The truck will go into operation immediately, although not yet for ADR transport. "Legislation still lags behind reality," said Aerts. "Using an electric truck to transport ADR goods is not yet permitted. However, we hope to see a change in the legislation soon. Now we can still easily schedule non-ADR transports separately, which is impossible with various other electric trucks."
Besides the fact that the truck is electrically powered, it also helps that the chassis of the Volvo FM is made from fossil-free steel to help reduce the CO2 footprint. Pieter den Hartogh went on: "We've had a partnership with Volvo Trucks for years. It's these kinds of things, together with Volvo's alternative powertrains, which mean that we are keen to work together in the transition to becoming CO2 neutral."
Electrolyte logistics
The global renewable energy industry is growing rapidly resulting in an increased demand for lithium battery electrolytes. In 2022, Den Hartogh unveiled its first electric cooling tank, offering a one-stop integrated logistics solution for Chinese electrolytes manufacturers exporting from China to Europe.
The door-to-door delivery was entirely co-ordinated and managed by Den Hartogh using its own trucking fleets. The company continues to invest in modern technology and creative logistics solutions to help fulfil customers' needs in an increasingly complex environment.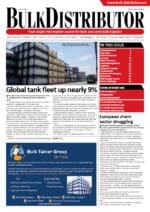 This article originally appeared in the March/April 2023 issue of Bulk Distributor.
view magazine