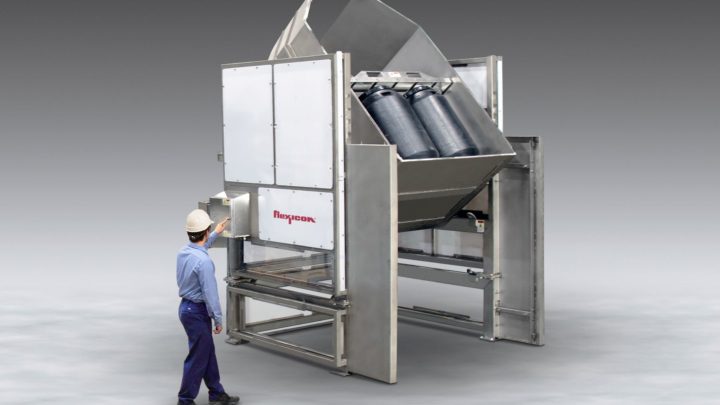 The bed of the unit's hydraulically-tipped housing can accommodate containers from 940 to 1,115 mm in height, having an individual or combined footprint of up to 1825 x 2435 mm. Typical applications for multiple containers include simultaneous dumping of four 210 litre drums, or four boxes, each having a footprint of 915 to 1220 mm.
Pallets weighing up to 2,265kg are forklift-loaded into the three-sided unit and secured, after which a grate is lowered onto the container(s) to prevent shifting. The lifting assembly is raised to a height of 1,955 mm and tipped hydraulically, causing material to slide through a smooth, three-sided chute into receiving vessels.
Twin hydraulic cylinders pivot the platform-chute assembly to discharge angles of 45 or 60 degrees beyond horizontal, including a motion-dampening feature at the termination of container rotation.
Impact-resistant side panels and custom guard panels with a light curtain ensure safe operation.
The tipper is available in heavy-duty, all-stainless construction to sanitary standards (pictured) or in carbon steel with durable industrial coatings and stainless steel material contact surfaces.
It is also available with optional receiving hoppers configured with Flexicon mechanical or pneumatic conveyors to transport discharged material to any plant location.
The company also manufactures other configurations of drum/box/container tippers as well as flexible screw conveyors, tubular cable conveyors, pneumatic conveying systems, bulk bag dischargers, bulk bag conditioners, bulk bag fillers, manual dumping stations, weigh batching and blending systems, and engineered plant-wide bulk handling systems with automated controls.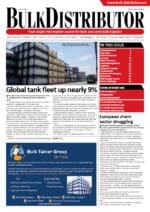 This article originally appeared in the March/April 2023 issue of Bulk Distributor.
view magazine