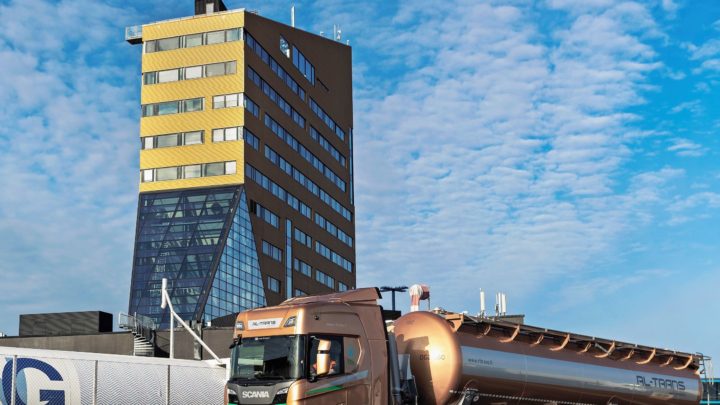 The company also transports liquid gases in bulk. Transported products include petrochemicals, food & feed and minerals among others. In 20 years, RL-Trans has grown at an annual rate of 15-20 percent every year. During these years its fleet has grown considerably from eight trucks to 270 transport units, transitioning from a local-based company into an international bulk logistics specialist offering its solutions on a Europe-wide scale.
According to market manager Andreas Lindedahl, RL-Trans sees the green transition as comprising a multitude of factors – preparing for new fuel solutions and electrifying mobility, optimising energy and fuel consumption, increasing sea and rail transport, offering detailed emissions reports, further investment in digitalisation, and more.
Sustainable transport solutions
The company has its own bulk terminal in Finland for storage and warehousing, and for debagging of packed materials to bulk. Using its own bulk terminal for distribution of products is of advantage, especially in Finland, because the allowed weight for road transport in the country is 76 tons, meaning that net loads of over 50 tons can be delivered to the end receivers.
To follow the EU's ambitious emissions reduction programme Fit for 55, the company has strongly integrated sustainable transport solutions into its strategy. Naturally, updating vehicles is one of the main missions.
"One hundred percent of our fleet is already compliant with the Euro 6 standard, but with the future that lies ahead of us, this is only the beginning", explains Lindedahl. "We want to offer our solutions to our customers with sustainability in mind for the whole logistics chain from beginning to end, there is no other way."
In 2019, RL-Trans invested in its first gas-powered trucks. Currently, trucks in operation are running on LNG and on biogas. Along with biogas, the rapid electrification and rise of hydrogen will open even more opportunities for emission reductions.
"Although there are already electric trucks on the market, they are not yet suitable for the majority of the bulk logistics business that we specialise in. One day, however, we will have heavy-duty electric trucks on the road. The same goes for hydrogen-powered trucks, but this technology is still in very early stages and the necessary infrastructure is yet to be built," says Lindedahl.
Eco-driving index
In addition to investing in trucks with smaller carbon footprints, RL-Trans has placed great emphasis on eco-driving. In 2017, the company developed its own eco-driving index and launched the internal Smart Bulk programme with the focus to increase overall traffic safety, cut emissions and reduce fuel consumption. The company has managed to improve its eco-driving index with 70 percent, meaning a significant fuel consumption reduction and subsequently also emission reductions as well as improved overall safety in its operations.
Although focusing on eco-driving is essential, the best way to achieve emission targets is reducing the kilometres driven. For RL-Trans, this means maximising the payloads as well as using intermodal and multimodal transport and sea routes as much as possible.
"We plan our transport routes carefully and always use seaway alternatives where possible to minimise emissions and energy consumption in international transport," Lindedahl goes on.
Optimising driving, routes, and payloads are all made possible by RL-Trans' heavy investments in digitalisation and in its fleet. The company's goal is to digitalise all its business operations step-by-step. At RL-Trans, digitalisation started already more than 20 years ago and has contributed to the rapid growth of the company.
"We are already a forerunner in the bulk logistics sector when it comes to offering real-time information about individual shipments to customers. Our automation system keeps our customers updated of their shipments. In addition, our GPS system is integrated to several other systems," explains ICT manager Mathias Lindedahl.
New technologies and safety features on its fleet have also been used to increase the safety of RL-Trans employees.
"Responding to the ever-changing demands of the market is in our DNA and with our great team of professionals we are sure that great opportunities lies ahead of us," comments Andreas Lindedahl.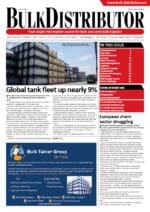 This article originally appeared in the March/April 2023 issue of Bulk Distributor.
view magazine