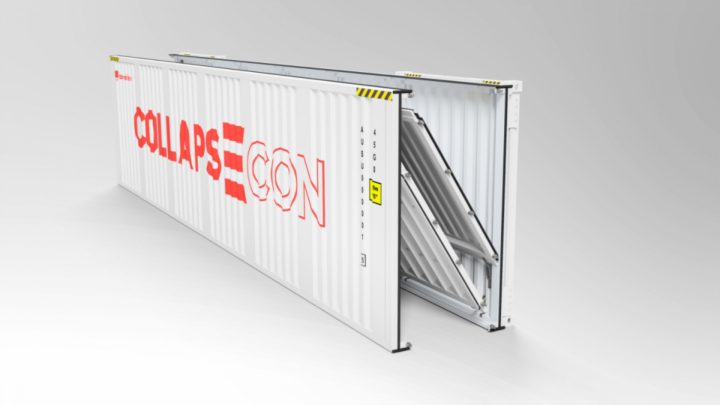 Collapsecon is an intermodal container that folds up using a fully-automated station so that each empty unit can be collapsed independently and then combined to form a single shipping container. This approach significantly reduces the cost and environmental impact of shipping by improving vessel slot efficiency, port lifting, vessel wharfing time, yard storage space, trucking, and handling.
Millions of shipping containers are carried across the world and at least a third are empty while in transit, wasting space, time, and resources due to trade imbalances in the market.
With the containers now upgraded with Nexxiot's latest Asset Intelligence technology, the Collapsecon fleet is easily monitored across the entire journey from origin to destination and back again. This enables complete visibility which provides insights and automated handling processes to optimise operations, increase cargo safety, enhance the shipping experience for the cargo owner and lead the race to sustainable maritime shipping, Nexxiot says.
The partnership's efforts are enhanced through active collaborations with clients, who prioritise sustainability, cost reduction, and cargo safety as core anchors in their product life cycle, and depend on shipping technologies, such as smart containers to reach their goals.
"Shippers expect their cargo to be safe throughout its journey and that's why we have partnered with Nexxiot," said Nicholas Press, CEO of Spectainer. "Cargo owners and carriers need cargo visibility, in real-time, from anywhere in the world to drive efficiency and process automation. Nexxiot's technology mitigates risk to people, infrastructure, and cargo while reducing emissions and waste. This makes it a strong partner to equip the Collapsecon, providing clients with the visibility they need on a global scale."
"The partnership with Spectainer will have a long-lasting impact," added Stefan Kalmund, Nexxiot's CEO. "The technologies and processes developed by our companies will benefit both the longevity of the supply chain industry and the well-being of our environment through lowering the consumption of resources and capital expenditures, maximising profits, and addressing the need for carbon footprint mitigation. These innovations will drive a technological maritime revolution in the race for smart, clean transportation."
Innofreight's fleet
Austria-based rail logistics company Innofreight has also selected Nexxiot to complete the digitalisation of its entire railcar fleet.
The company, which has just moved into its new headquarters in Bruck an der Mur, works closely with its customers and the wider industry to develop containers, railcars and unloading systems to optimise rail freight transport.
Innofreight, which has already equipped Nexxiot's Asset Intelligence technology on more than 1,000 of its railcars, will now move forward with a further deployment so the entire fleet is digitalised.
The rail firm's CEO Isabella Legat said: "The company operates in over 20 countries and handles more than 2 million container unloading's each year. With a railcar fleet of 2,700 and 23,000 containers in use, the adoption of the newest digital strategies is invaluable to our clients and partners, especially where safety is concerned. Here there can be no compromise."
New railcars will be produced by TŽV Gredelj, in Croatia, part of the Tatravagónka family – a factory with more than 125 years of experience in the design, production, reconstruction, modernisation, and maintenance of all types of railway vehicles.
These, together with the existing fleet will all be fitted with Nexxiot's Globehopper connectivity gateway.
Innofreight runs 230 block trains every day throughout Europe and seeks to develop logistics solutions that shift road traffic to rail to reduce CO2 and develops modular offerings to maximize capacity, efficiency, and flexibility.
Nexxiot CEO Stefan Kalmund commented: "We endorse Innofreight's stance on innovation and fully support the impressive vision for a more efficient and ecological transport network."
Legat explained: "The Innofreight culture is to push for constant improvement. The data we gather through Nexxiot's technology creates transparency, increased efficiency, and productivity through the smart use of data. We always seek to find the best strategic and cultural fit to maximise benefits to our clients.
"We first entered the partnership with Nexxiot in 2021. Since then, through (what we have learned) we understood that we can create a new benchmark in safety, maintenance efficiency and client services for our customers all over Europe. "Nexxiot's solutions will be deployed to expand our business as well as our services in line with our quality and security standard as we continue to optimise rail freight transports."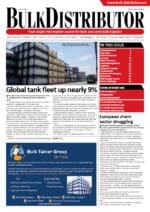 This article originally appeared in the March/April 2023 issue of Bulk Distributor.
view magazine