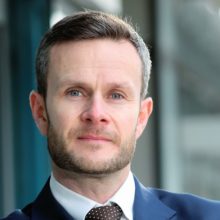 The first thing you think about when it comes to asset tracking is following an item of equipment or cargo as it travels from point A to point B. However, if the shipments in question are potentially explosive gases, simple positioning information is far from enough.
A leading international exporter of hazardous gases owns and operates a fleet of 600 cryogenic tank containers used for worldwide export of 'air' gas, namely argon, nitrogen, oxygen, carbon dioxide (CO2) and nitrous oxide. Customers represent a diverse range of organisations and sectors, including energy and gas providers, industrial companies, leisure sector including hotels, medical businesses, beverage makers (who use CO2 for carbonated drinks), among others.
As the gases are potentially explosive, it is essential that the containers can be accurately tracked throughout their journey to ensure safe transport. This is only possible by employing satellite communications with ubiquitous coverage, even as the cargo traverses the world's oceans.
Furthermore, it is vital to know each tank's fill level. Achieving this requires collection and analysis of data which reveals differential pressure levels.
The company deployed the Ovinto Sat smart asset monitoring system to ensure the safety of gas shipments as they travel to customers. Ovinto Sat is enabled by Globalstar's worldwide satellite fleet traversing the planet in Low-Earth Orbit.
Robustness, low power consumption, long battery life
Solutions which the gas exporter tried earlier were only able to provide positioning information. Only Ovinto Sat offered a solution that included sensors for measuring temperature and pressure inside the vessels. Ovinto Sat's configurability, enabling the company to program the sensors to meet specific logistical requirements, was a huge factor which persuaded the company to deploy the system. The company also found Ovinto Sat's operational dashboard to be highly functional and user friendly.
Other GSM-based systems trialled were unable to provide uninterrupted tracking, others deemed too complex for speedy implementation, or their operational user interface was unintuitive. The robustness, low power consumption and long battery life of Ovinto Sat units were further key features that led the company to determine it as the best solution for its needs.
"We were confident that Ovinto Sat devices were rugged enough to withstand long journeys on road, rail and sea that our containers often take," the assets manager at the gas exporter commented.
Each of the company's 600 tank containers is now fitted with an Ovinto Sat device, as is every new container the company buys.
Many factors can influence the pressure in a tank. The density inside changes subject to atmospheric temperature variations as it is shipped around the world. Frederick Ronse, managing director of Ovinto, which created Ovinto Sat, explained: "The density can vary depending on where it comes from; for instance, LNG characteristics will be different when sourced from a hot country compared to somewhere with a cooler climate."
Measuring and analysing differential pressures at the top and bottom of the container reveals how full the tank is. As a result, Ovinto Sat helps customers optimise their assets' value because they know when a tank will be ready for refilling. Being able to predict reliably the state of the container and its condensed gaseous contents benefits all parties in the value chain, ensuring that end customers receive deliveries when expected and in a highly efficient manner.
Hydrogen and LNG
LNG is a rapidly growing business area for the gas exporter, particularly in the US and Mexico. It is believed that the LNG market will see significant growth in the coming years as demand surges for sources of energy alternative to traditional oil and gas fossil fuels.
Additionally, hydrogen based energy, particularly to fuel vehicles, is an area of fast expansion. "As the world turns to cleaner sources of energy, hydrogen is emerging as a big part of the solution to solve the global energy crisis," explained the assets manager.
"Hydrogen is outside of our traditional markets but it is one of the fastest growing parts of our business," he said. "With the proliferation of vehicles with new power sources, hydrogen filling stations are proliferating in many regions; we absolutely believe that this will be a growing part of our commercial success going forward."
Many of the initiatives aimed at promoting the use of hydrogen for vehicles are backed by national and local governments as part of their commitments to reduce carbon emissions.
Islands in the Pacific, for example, currently rely heavily on crude oil for their energy. "Providing LNG to such countries offers them a guaranteed energy source that is much cleaner," the assets manager added.
Top ATEX certification
Critically important for conveyance of hazardous materials, Ovinto Sat complies with the highest possible ATEX standard certification for explosion safety. At the heart of Ovinto Sat is Globalstar's low power STX3, the smallest and lowest power consuming chipset on the market.
Because it is battery powered, Ovinto Sat allows customers to monitor materials in unpowered environments including rail tank cars and containers. The STX3's low power consumption means the battery lasts up to eight years. Ovinto Sat collates data from various sensors and GPS in each container and sends it securely by satellite to the customer headquarters. The flexible Ovinto Sat system can be configured so that alarms are triggered when particular pressure and density levels are detected.
Satellite IoT
It is critical to be able to monitor continually the pressure inside containers to ensure the safe travel and delivery of these highly dangerous liquefied gases. Tank containers get stacked during transport and storage. The sensor devices are affixed to the outside of the container, each safe inside its own rugged domed casing. The devices maintain continuous visibility of the satellite network, so data on the environmental characteristics of the containers can flow uninterrupted as they move across the globe on the way to their destinations.
Ovinto chose STX3 for Ovinto Sat because its extended battery life ensures customers can rely on the sensor devices for years without having to replace batteries. Furthermore, Globalstar's second-generation satellite network ensures that each status transmission reaches the asset's owner, even when the asset, whether container, rail car, or other important link in the supply chain, transits through remote locations with limited or no cellular phone signal.
"There's huge potential for IoT technologies to transform container management and safety thanks to the emergence of low-powered devices that can run for years without human intervention, and the availability of reliable, low cost satellite communications," concluded Ronse.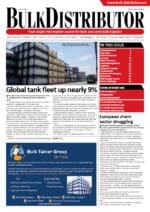 This article originally appeared in the March/April 2023 issue of Bulk Distributor.
view magazine