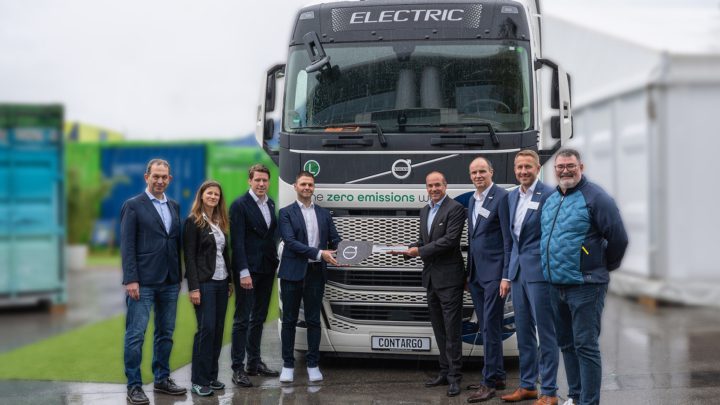 This e-truck stands for 15 vehicles of the same model that have already been delivered. Currently, they will enable Contargo to offer its customers throughout Germany a CO2e-reduced transport chain, formed by container transport by e-truck and rail, with trains driven by green electricity.
The Volvo FH Electric has a permissible total weight of 44 tonnes. Six 90 kWh battery packs power the 490-kilowatt synchronous motor (666 hp). With a total capacity of 540 kilowatt hours, the Volvo FH Electric is an efficient performer with a range of up to 300 kilometres depending on the weight.
"The logistics sector plays a decisive role in reducing the carbon footprint. So we are glad that many of our customers are reacting quickly, as Contargo and Rhenus Trucking have done, and are switching to an e-truck fleet together with us", says Peter Prijak, key account manager, Volvo Trucks Deutschland.
15 vehicles for 11 locations
Volvo delivered the semitrailer machines to Rhenus Trucking, who are acting as a service provider for their customer Contargo: "The integration of the 15 e-Volvos into our product range means that today we have battery-driven semitrailer tractors in operation from almost all available manufacturers", Michael Starke, MD of Rhenus Trucking GmbH & Co. KG, said.
The vehicles will operate at eleven Contargo locations: one each in Duisburg, Emmerich, Frankfurt-Ost, Gustavsburg, Karlsruhe, Koblenz and Neuss, and two apiece in Hamburg, Weil am Rhein, Mannheim and Ludwigshafen. The e-trucks will be used locally for the 'last mile' transport of containers.
New design for the new product
Contargo is giving the vehicles a brand-new design. So it will be apparent at first sight that the e-trucks are part of a supply chain that avoids generating emissions. The new product, which uses e-trucks for local delivery and collection, and trains powered by green electricity for the main run, is called "contango". 
"We are in a position to make this offer because we are expanding our e-fleet from seven to 32 vehicles", says Kristin Kahl, Sustainable Solutions at Contargo. in June 2022 Contargo and Rhenus Trucking received notification of KsNI funding for 27 battery-powered 44-tonners and the corresponding infrastructure.
New in the portfolio: e-trucks in Hamburg
In Hamburg, Contargo Road Logistics is entering a new business area with e-trucks. The e-trucks will be underway for selected customers in Hamburg and the surrounding region.
"Building up our fleet by incorporating trucks with alternative drives enables us to offer our customers here in the north an excellent complementary service. It is advantageous to offer low-noise, low-emission trucking, especially in the port and city area", says Christian Schäfers, branch manager, Contargo Road Logistics Hamburg.
Just as flexible as diesel trucks
Thanks to charging systems with an output of 250 kW, the e-trucks can be fully charged in two hours if required. This makes it possible for Contargo to deploy the e-trucks as flexibly as diesel trucks and even enables 24-hour operation.
Contargo plans to drive 1.5 million kilometres a year with these fully electric trucks, thus saving almost 1,500 tonnes of CO2e annually. To meet increased customer demand for this emission-free product (tank-to-wheel), Contargo has also participated with Rhenus Trucking in a second call for funding, this time applying for an additional 50 e-trucks and the relevant infrastructure.
The purchase of the 15 Volvo FH Electric trucks was subsidised by the German Federal Ministry for Digital and Transport (BMDV) with a total of 3,817,500 Euro, under the funding guideline for the purchase of commercial vehicles with alternative climate-friendly drivetrains and the deployment of refuelling and charging infrastructure (KsNI). 
Support has been given altogether for 27 e-trucks and the corresponding charging infrastructure. The funding guideline is coordinated by the NOW GmbH, and applications are approved by the Federal Logistics and Mobility Office (BALM).