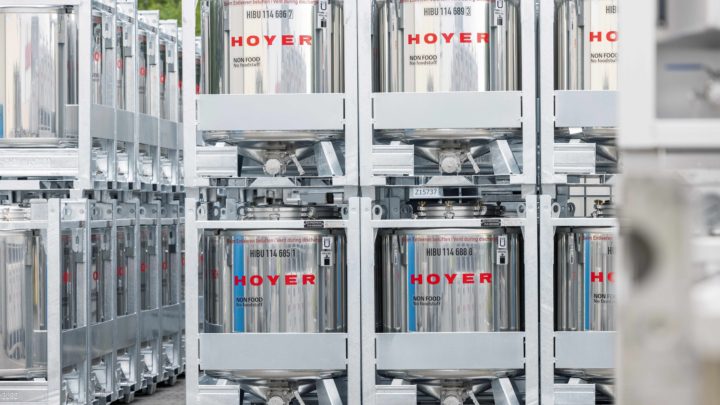 The global logistics provider aims to increase efficiency and significantly reduce IBC throughput times during cleaning.
The new facility will result in optimised fleet utilisation, improved plannability, and faster provision of the high-demand stainless steel containers. The HOYER Group has experienced substantial growth in this business area over the past two years.
State-of-the-art technology and certified standards
The HOYER Group expands its services by commissioning this cutting-edge, semi-automatic IBC cleaning facility in Mannheim, adhering to the highest certified quality and safety standards.
Marlen Blechschmidt, director IBC Logistics, said: "Through this investment, we further strengthen the cleaning network of the HOYER Group. We will continue to grow our IBC business.
"With our network of workshops, depots and cleaning facilities through our Cotac subsidiary, we offer reliable full service from a single source. This enables us to serve our major customers in the chemical, cosmetics and food industries even more efficiently."
Versatile cleaning capabilities and energy efficiency
The new semi-automatic plant is primarily designed to clean chemical and cosmetic products but can also perform certified cleaning operations for food products, including kosher. The state-of-the-art facility is highly compatible with the HOYER Group's portfolio's wide range of IBC types.
Internal and external cleaning is automated according to industrial and certified standards, with steam disinfection also available. When selecting this advanced facility, the logistics company emphasised energy-efficient, resource-saving cleaning processes.
Jens Enskat, managing director Cotac, says, "This IBC cleaning system increases our processing capacity by 30 per cent – with the same number of staff. It makes our colleagues' daily work easier, and gives our customers even greater planning security."