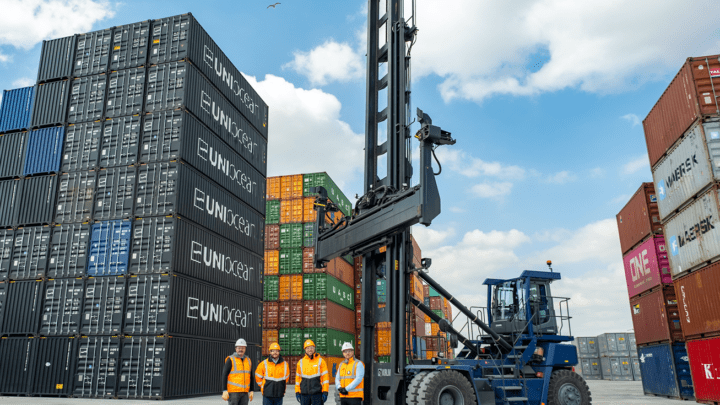 Jointly invested in by rail terminal operators Solent Stevedores and Associated British Ports, the project aims to provide an 18-acre facility to link the existing intermodal rail transport site with container handling, storage, maintenance, and repair. The first construction phase has recently been completed, marking a significant milestone in the project.
Contractors Ryebridge Construction have completed the project's first phase, which has seen the installation of 5.5 acres of new site, including large areas of fibre-reinforced concrete. This has enabled the space to be used for stacking containers seven high with new Empty Container Handlers. Additionally, new modern offices have been installed on the site. Solent Stevedores has now taken over the completed phase, which will store loaded and empty containers.
Phase 2 is now underway
The project's second phase is now underway, with a further 6.5 acres of space set to be connected to the existing rail terminal. The final phase will see all rail track works completed.
Clive Thomas, commercial director at Solent Stevedores, said: "Further developing the rail provision at the Port of Southampton is key to the ongoing development of intermodal rail travel connecting deep sea shipping lines to the UK through the Solent Rail Terminal."
The project aims to improve sustainability in the region by reducing the number of HGVs on the roads and improving local air quality.
Paul Reeves, head of commercial at ABP Southampton, said: "The improved rail provision for the Solent Stevedores will enable the company to transport more of their clients' containers via rail, reducing the number of HGVs on our roads and improving the local air quality."