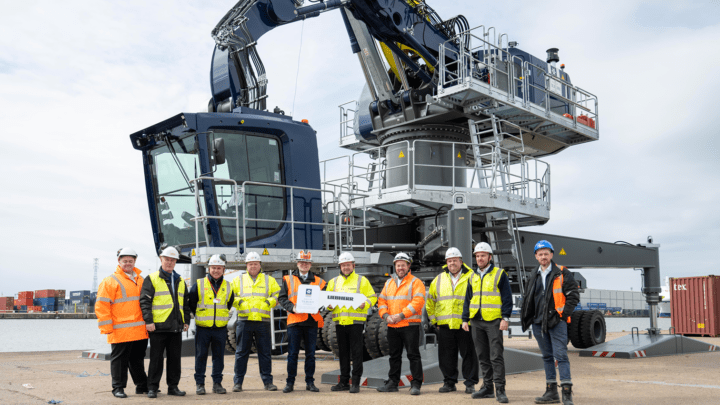 The new Liebherr LH 150 M HR, is the first of its kind to operate in the UK and joins the busy port's fleet of material handlers, including Sennebogen 870 and 875 machines.
The new handler, which is to be known as 'Big Giraffe' following a naming competition with local schools, is the most advanced model with a solid sustainability and net zero credentials, which support the port drive to greener operations.
Big Giraffe
The machine, which will work across the port estate, including bulks and general cargo, uses the latest Tier V engine capable of running on HVO100 fuel, ensuring zero CO2 emissions. An Energy Recovery Cylinder (ERC) is fitted to the main boom, delivering up to 30% of fuel savings. The model also has low-energy LED Lighting throughout and will contribute to the port's ongoing commitment to ISO 14001 and ISO 50001 accreditation.
Paul Dale, asset and site director at the Port of Tilbury, said: "Across our ports, we are investing in greener technology to ensure that our operations are sustainable and moving towards zero emissions. We have worked with Liebherr over the years and we are pleased to be the first in the UK to use their most advanced model of material handler."
Mike Hanlon, ports and rehandling specialist at Liebherr Great Britain, commented: "In line with our commitment to continuously reduce our environmental impacts and to shape long-term industry trends, we are driving forward the electrification of our machine portfolio. Many ports are increasingly demanding minimal CO2 emissions and a significant reduction in noise pollution for round-the-clock loading and unloading. Our emission-free material handlers respond to these challenges."