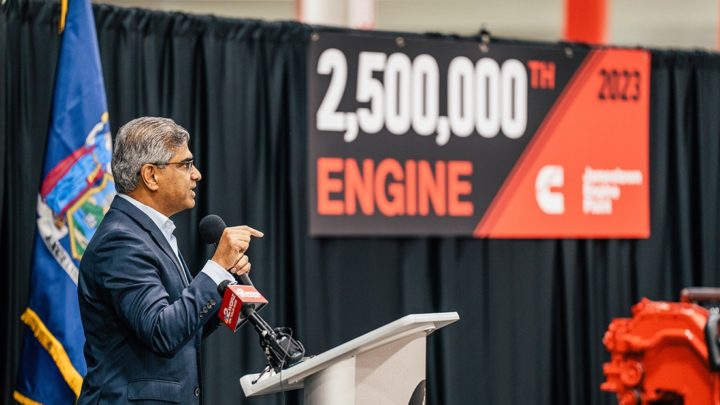 In addition to reaching this milestone, the company is investing $452 million (€422 million) into the 998,000 square foot Jamestown facility, to produce the industry's first fuel-agnostic internal combustion engine platform that leverages a range of lower carbon fuel types – including natural gas – and is aligned with the company's Destination Zero strategy.
The X15N is part of the new fuel-agnostic 15-litre engine platform that will be produced at JEP. The first fleets to test the first X15N engines include Knight-Swift Transportation, Ryder and United Parcel Service (UPS). Cummins said that this is the first natural gas engine to be specifically designed for heavy-duty truck applications, with up to 500 horsepower output, and is a key step for the future of heavy-duty transportation fleets and a road to zero emissions.
Kenworth will be the recipient of the milestone engine and will install it in the Legacy W900 truck and provide the truck to Palmer Kenworth.

"Our employees are innovating to find new ways of working that use fewer of the world's resources, and the Engine Business is at the centre of this exciting innovation," said Srikanth Padmanabhan, vice president and president, Cummins Engine Business. "Our fuel agnostic platform builds on decades of experience in designing and manufacturing industry-leading products here in Jamestown. It is essential to our commitment to help customers reduce greenhouse gas emissions."
JEP is a critical piece of Cummins long term Destination Zero strategy and next-generation engine portfolio, and remains one of the company's largest manufacturing facilities, it said.