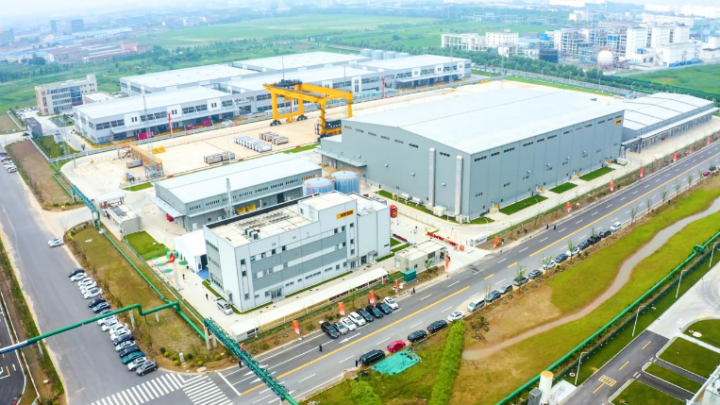 The company said that this event marked a special milestone in China's history.
The project took six years to complete and it had to overcome numerous challenges including the outbreak of the Covid pandemic.
With the hub already operational since the beginning of the year, the ceremony was an opportunity to demonstrate to customers the infrastructure and service offering of the facility.

The hub is a modern and 'safe' dangerous goods site with a capacity of 50,000 tons storage and over 500,000 tons annual throughput capacity of wide-ranging chemical products.

It is characterised by an ISO tank farm with the capacity to store up to 1,100 laden dangerous goods tank containers, as well as three warehouses with a total capacity of 25,000 pallets of various dangerous goods classes.
An automated drumming line system ensures high productivity in filling drums and IBCs.

With advanced container heating and cooling capabilities including steam, warm water, electrical heating and electrical cooling, the hub provides a wide range of value-added services to chemical industry customers.
Situated in the thriving Yangtze River International Chemical Industry Park next to the free trade zone in Zhangjiagang, the hub benefits from a strategic location in one of the most dynamic economic regions of the country.
Its location along the river also ensures seamless connectivity to global transport networks and an efficient distribution of chemical products across China and beyond.

"The hub ideally complements Bertschi's global logistics network and enables worldwide door-to-door supply chain solutions, supporting our customers in their rapid expansion plans in China and across Asia," explained Jan Arnet, CEO of Bertschi Group.
The container yard is open to tank containers from all operators. This allows chemical producers to add the container farm into their IT systems as a sustainable Yangtze Delta entry hub for product storage in ISO tanks across all logistics service providers.
The new hub is in the vicinity of the port with daily direct container feeder vessels to Shanghai that is 150 km away, as well as direct vessel connections to Korea and Japan.

This location allows the facility to support the political goal of shifting the road transit of dangerous goods between Shanghai and the hinterland to waterways, bypassing the roads of the 25 million population of the Shanghai urban area.
With this modal shift, transport safety and sustainability can be improved and negative impacts on the environment minimised.
"The facility represents the largest single investment in our company's history. It signals our solid commitment to the growth and success of our global base in China," stated Hans-Jorg Bertschi, the executive chairman.