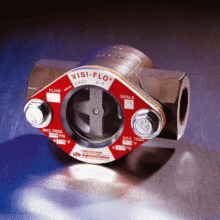 OPW has designed the Drylok to  provide "unprecedented" safety  during the transfer of hazardous,  corrosive and volatile liquids such as  acids, solvents and petrochemicals.  Featuring an interlocking handle, the  Drylok averts accidental spills by  preventing uncoupling while the valve  is open. In addition, the Drylok's flat  face minimises fluid loss, further  reducing exposure to risk during  operation.
Additional benefits include: the  "driest disconnect in the industry" –  less than 1-cc of fluid loss from a 3ins  unit; ideal for high-pressure line  applications – can be opened and  closed against 150 psi maximum head  pressure; optimum flow rate – less  obstruction in easy-flow interior  optimises the flow rate in highpressure  or high-viscosity applications;  simple lever action connects valve to  coupler and opens and closes the flow.  No clamps, clips, loops or tabs that  can cause operator error.
Drylok couplers are available in 1ins,  2ins and 3ins sizes and are  manufactured from a range of  materials, including 316 stainless steel,  Alloy 20 or Hastelloy C with NPT, BSP,  ASME Flanged, BW and SW end  connections. Drylok's have also been  manufactured with an adjustable  packing nut with V-type material that  provides a continuous compression, an  emission-free seal on the handle shaft  and a standard O-ring seal for  longevity.
In addition, OPW Engineered Systems  has manufactured its Visi-Flo 1400 and  1500 Series Sight Flow Indicators to  provide a quick, reliable and  inexpensive way to verify flow rate and  direction while monitoring colour and  clarity in fluid lines. Dollar for dollar,  OPW sight flow indicators are the  most cost efficient and effective way  to monitor visually the flow of fluids  and to determine where, if any,  problems exist at certain points along  the industrial process line.
Visi-Flo's radial seal creates a  constant and uninterrupted sealing  force between the body and outside  diameter of the glass lens. This sealing  method provides a longer lasting and  better seal than conventional flat seals.  Visi-Flo's bolt-on-body design requires  no special maintenance or torqueing  sequence to be followed to prevent  leaks. This is claimed to result in a  safer, more reliable sight flow indicator  than units using tie rods to fasten lens  and seal to body.
Visi-Flo's are available in two series  – the Standard 1400 Series and the  1500 High-Pressure High-Temperature  Series. Both the 1400 and 1500 Series  are available in threaded or flanged  configurations and are tested at 150  percent of the rated pressure to ensure  maximum reliability in harsh operating  conditions. Additional features include  an exclusive 3-year 'no-leak'  guarantee; maintenance-free design;  dimensional interchangeability; full  vacuum service rating; adequate  horizontal and vertical range; and four  different indicator styles: propeller,  bi-directional flapper, bi-directional  plain and drip tube.
Ross Pliska has been appointed vice  president of the Transportation  Business Unit of OPW Fluid Transfer  Group. As part of OPWFTG's strategic  growth initiative, in 2009 the company  was organised into two global units:  OPWFTG Global Transportation and  OPWFTG Global Chemical & Industrial.  Pliska will oversee the global  Transportation Business Unit that  markets Civacon, Knappco, Sure Seal,  Hiltap, OPW Engineered Systems and  Midland brand products.
Pliska earned his BSc in Mechanical  Engineering from the University of  Alberta, and his MBA from the  University of Tennessee. He joined  Dover in 2003 as a manufacturing/  applications engineer for Alberta Oil  Tool (AOT), in Edmonton. He was  named technical services Manager in  2005 and promoted to VP sales and  engineering in 2007. In March of  2010, he was named VP of  international sales for Norris  Production Solutions, another Dover  Company and provider of oil and gas  artificial lift solutions.