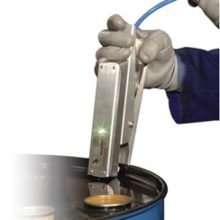 While retaining the original innovative patented design features, the Bond-Rite Clamp has recently achieved upgraded hazardous area certification to the latest applicable sections of IEC 60079, enabling it to be used in global markets where the IECEX scheme is recognized, in addition to its existing approvals according to ATEX (European) and NEC (North American) hazardous area standards. As part of the updated certification, the unit has now been tested and approved for a wider ambient temperature range from – 40 deg C to + 60 deg C. This enhanced rating, coupled with its IP65 and NEMA4X ingress and environmental protection increases the range of applications where the Bond-Rite clamp may be put into use, both indoors and outdoors, while the long-life lithium battery power source means that installation is simple and cost effective, requiring no mains/line voltage power supply.
The Bond-Rite Clamp is suitable for use in all IEC/ATEX Gas and Dust Zones (0, 1, 2 and 20, 21, 22) as well as NEC Hazardous Location Classes I, II, III and Divisions 1 and 2. The standard unit is supplied complete with 5 metre/16ft retractable (coiled) hytrel static-dissipative cable, earth/ground connection junction box and stowage point for the clamp, and models are available where the clamp is fitted to alternative cable lengths or self-rewind cable reels. Another popular option is the Bond-Rite EZ which is a totally portable bonding and verification system for use in temporary or mobile applications, or wherever there is a requirement to continuously monitor an equipotential bond between two conductive items or earth/ground.
The Bond-Rite Clamp forms part of the comprehensive range of hazardous area static earth/grounding and bonding equipment available from Newson Gale. For further information visit www.newson-gale.com or contact your local office or in-country distributor.