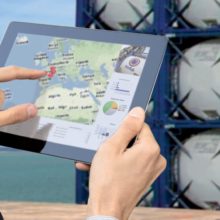 By handing over daily fleet management and operations to InterBulk, the company says its XP-TFM enables the customer to maintain focus on what it does best without losing a moment of visibility.
With Interbulk XP-TFM, customers will benefit from personalised reports accessible 24/7. Operational and maintenance aspects of a container fleet will be "detailed, visible and transparent to suit (the customer's) specific requirements," says InterBulk.
Customised services will be delivered by InterBulk's support personnel, strategically located throughout the world.
Key Services provided include:
Operational planning/equipment track and trace
Identifying and leveraging supply chain efficiencies
Management reporting via bespoke KPIs
Technical troubleshooting and co-ordination of (preventative) maintenance & repair
InterBulk XP-TFM is a web-based application accessible from anywhere in the world. The company says it is an ideal solution for a variety of container fleets, operating globally and adaptable to customer's specific needs.
The system can help decrease supply chain spend by minimising fleet sizes through higher utilisation reducing downtime, by adding technical know-how to manage all M&R/testing/inspection/off-hires, and by benefiting from InterBulk's global footprint and local expertise.
By providing a detailed view into the key processes throughout the supply chain, both the client and InterBulk can jointly: manage business performance with KPI reporting; manage demurrage costs as agreed with receivers; respond better to demands within the supply chain; follow consignments 24/7, knowing exactly where they are at every stage of the journey; have access to certificates of container approval and regulatory testing, shipping documents, etc; control maintenance and repair and expenditure