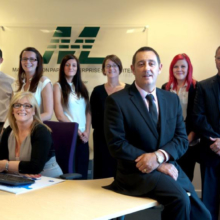 The Nottingham based paper company, which exports through deep-sea shipping to Asia, will be routing a significant amount of its 72,000 TEU per annum through London Gateway when the port opens in Q4 2013. Having a closer container port will allow Mark Lyndon to cut approximately 380,000 lorry miles from its supply chain annually, resulting in significant time, CO2 and haulage cost savings. This is the equivalent of driving 15 times around the globe.
Paul Briggs, Managing Director of Mark Lyndon Enterprises UK, said: "Over a third of the population of England lives in London and the South East. Using a port located closer to these major markets offers our business the opportunity to reduce our transport costs. Ultimately, shipping through London Gateway will make exporting from the UK more cost effective and will help make UK plc more competitive, benefiting supply chains from cargo owners through to end-customers."
Situated on the north bank of the River Thames, London Gateway will provide unrivaled deep-sea shipping access to the UK's largest markets. The new port is located closer to the midlands, and beyond, than other competing ports.
Charles Meaby, DP World London Gateway Commercial Director said: "Businesses looking for ways to cut import and export costs will undoubtedly benefit from London Gateway because of our modern facilities and being located closer to London, the midlands and beyond."
London Gateway will be able to handle the world's largest container ships and will be integrated with one million square metres of logistics and distribution warehousing, providing businesses with further opportunities to reduce supply chain costs, time and CO2.