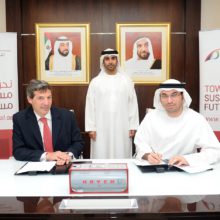 "Based on our experience as a supplier of logistics services in Europe, we know the advantages of using rail as a carrier. We have chosen to work with Etihad Rail so that we can offer our customers a safer, more reliable and more ecologically sustainable mode of transport of liquid products, by rail in the United Arab Emirates as we have done in our other areas of operation," says Menno Douwes Dekker, managing director of the Deep Sea Middle East & India business unit of HOYER Global Transport B.V.
HOYER has been a part of the Etihad Rail commercial advisory panel for the development of the overall Etihad Rail project since 2011.
Etihad Rail is in the process of developing and operating the UAE's national rail network, a key element of the developments creating in the UAE a logistics hub for trade and industry in the region. The Etihad Rail network will span a total of 1,200 km across the Emirates. HOYER has been in the UAE since 1999 with an office in Dubai managing liquid bulk transportation in the region.