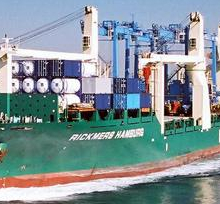 Shipping companies are increasingly demanding modern and energy efficient tonnage to reduce their operational expenses and importantly, will be focused on solutions which will allow them to move less efficient tonnage out of their networks as they phase these new more economical ships into service.
"Against the background of the continued crisis in ship financing, Oaktree and Rickmers are presenting a new way of cooperation between private equity and the shipping sector for investments in state-of-the-art vessels", said Dr Ignace Van Meenen, Deputy CEO and CFO of Rickmers Holding.
Oaktree was seeking an operating partner for construction supervision, fleet management and commercial management. It is contemplated that these services will be provided by Rickmers including a life cycle approach, which integrates design, newbuilding and ship management best practices, ensuring cost efficient, reliable and predictable operations throughout the life time of the ships.
The partnership targets vessels with a modern design focusing on environmental compliance, operational, load and fuel efficiency, which will be built at a quality shipyard in Asia for delivery between mid 2014 and mid 2015.
"Our partnership with Oaktree represents a positive step in the development of new capital sources for the shipping sector. It allows us to begin to respond to the need to start investing in the tonnage of the future, offering liner carriers an attractive alternative to replace their existing higher cost fleet," said Ronald D Widdows, CEO of Rickmers Holdings.
Hermann T Dambach, Managing Director, Oaktree, added: "We firmly believe in the shipping sector as an attractive field for investment, where the demand for higher fuel efficiency and environmentally compliant vessels will cause a constantly increasing need for the introduction of new vessels equipped with the latest technology. With its long experience and broad expertise in completing state-of-the-art newbuilding projects, operational management and a strong focus on energy efficiency, Rickmers is our ideal partner on this project."