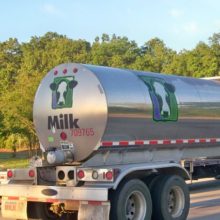 Only two votes (from Green Party members) were registered against the exemption which was fought for hard by milk producers and transporters, particularly in the region of Brittany which accounts for the majority of France's domestically-produced milk. Breton milk tankers were even used to block a motorway toll gate for a day.
The tax will be collected through a satellite-based toll scheme run by Ecomouv, a consortium led by Italian group Autostrade per l'Italia, and in which state-owned rail operator SNCF is a minority partner. It will apply to vehicles over 3.5 tonnes using departmental and trunk roads, at an average cost of €0.12/km. Using motorways in France is already taxed through a system of tolls. The government hopes it will raise as much as €1.2 billion a year to fund transport infrastructure improvements.
A trial period is due to run from July to September 2013, with official application due to start from October 2013.
Freight transport groups say it will hit around 600,000 domestic and 200,000 foreign vehicles. The aim is to encourage shippers to use other modes of transport although shipper groups themselves have recently decried the lack of genuine competition in rail transport due to the dominance of state-owned operator SNCF.