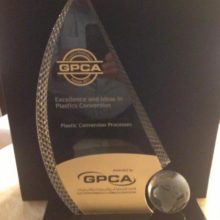 Based in Europe and represented globally in 50 countries, Schoeller Allibert is proud to present a bespoke new product targeted at petrochemical products suppliers specifically. Its latest product, Smartleaf®, has been designed to store petrochemical products and will be available in a returnable system. This week Smartleaf® received the Plastics Innovation Award 2013 – Excellence and Ideas in Plastics Conversion from the Gulf Petrochemicals & Chemicals Association (GPCA), awarded in the category Sustainability of Plastic Products and Processes.
"The latest in cost-effective packaging solutions are two products designed to suit the very specific needs of petrochemical products suppliers: in a range of over 2000 packaging products, Schoeller Allibert now introduces Smartleaf®, a specific packaging unit complementing our existing plastic pallet Longleaf®" says a representative.
The 1300×1100 pallet sheet Longleaf® aims to successfully replace one-way wooden pallets used to store and transport petrochemical products. This brand-new and revolutionary system allows not only convenient relocation; it also provides a more efficient storage solution. In the development of this range of products, great emphasis was put on its returnable and reusable quality. Longleaf® products can be used over and over again.
Smartleaf® is the latest addition to the Schoeller Allibert product range. This nestable and stackable plastic storage solution can be easily combined with Longleaf® pallets, using a nesting tray. Clean, safe, secure, robust, these packaging units represent the best in the market. Smartleaf® packaging units are great space savers and can be more easily stored and transported. For example, a gain of 10 per cent on storage space is guaranteed in standard freight containers.