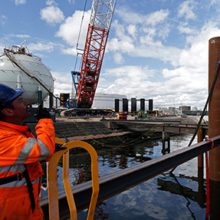 Works to repair the existing structures, replace existing fender systems with high-efficiency units and construct a fourth dolphin (dolphin D) have been completed with a minimum of jetty outage.
The project, managed by Simon's in-house engineering team, will extend the life of the jetty and ensure safe berthing for vessels up to 40,000 dwt. The installation of the fourth dolphin provides a preferential berthing dolphin to act as the first point of contact for vessels being berthed on Jetty 1.
The design and construction method developed by Simon and SCE used landside access and pre-constructed concrete panels for dolphin D to optimise construction safety and reduce jetty possession risk, and required installing 900mm diameter tubular piling into the river bed, followed by the precast concrete units and a continuous concrete pour to create the platform, and finally fitting the new fender panel as a single pre-assembled unit. Spud-leg barges were used to replace the existing fenders on dolphins A, B and C with a similar high efficiency system, and the timber facing panels to the Jetty 1 structure have also been replaced.