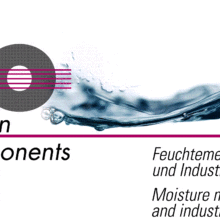 Brand new: ACO Sensor for measuring bulk goods: AMMS
"all-in-one": direct measuring – digital processing – analogue output
A combination of approved measuring systems, long-term experience and close cooperation with clients, ACO developed a new sensor generation: AMMS.
With this new Analogue Moisture Measuring Sensor ACO offers a compact sensor suitable for nearly all bulk goods, granules, powders, mixtures, paste-like materials and substances from various industrial fields.
This sensor is equipped with user-friendly calibration by calibration software. Multi calibration up to 10 calibration points are possible. Calibration directly in process is a big advantage. For easier handling calibration directly at the sensor is possible as well. The measuring range or average value can be adjusted conveniently directly at the sensor. The output of measuring value is made by analogue output signal 4…20mA.
All electronics are embedded in a robust durable stainless steel housing with highly resistant ceramic disc. Due to its identical dimensions the new AMMS sensor can be easily upgraded in any existing process.
ACO will be attending Powtech 2014 and will be presenting the new AMMS sensor in detail at booth423, hall 5.